MorningStar Of Happy Valley Community Breaks Ground
---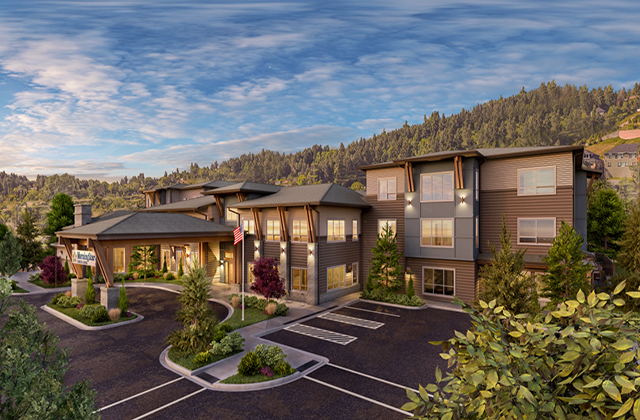 MorningStar of Happy Valley
---
MorningStar Senior Living and Confluent Senior Living have broken ground on a new 83,300-square-foot senior living community in Happy Valley, Ore.
MorningStar of Happy Valley, situated on two acres, will offer 88 suites for assisted living and memory care residents and is planned to open in the summer of 2019.
The three-story community will offer 61 suites for assisted living and 27 suites for residents with memory impairment in a mixture of studio and one- and two-bedroom units.
Amenities will include restaurant-style dining; a 24-hour bistro with full bar; life enrichment room; private dining room for parties; spa; fitness and wellness center; massage/therapy room; salon; library and game room; theatre and chapel; and more. Planned outdoor amenities include courtyards, featuring artwork and trellises, perimeter walking paths, resident gardening areas, and a barbecue with outdoor kitchen and fire pit.
The team for the infill project includes LRS Architects and LCG Pence Construction. Thoma-Holec Design will serve as interior designer.
Confluent is the project owner and MorningStar will serve as the operator.
Local firms