2018 EFA Design Showcase: Leading The Way
---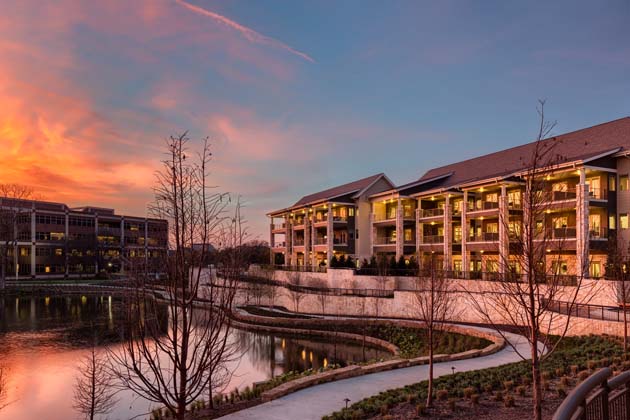 David Tonnes (PanaViz)
Public and private walking paths and a labyrinth offer guests and staff respite, while all patient rooms have views to the pond.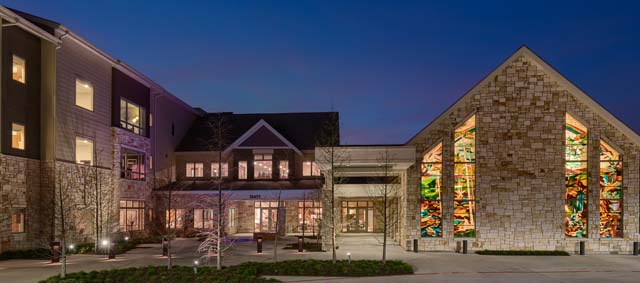 David Tonnes (PanaViz)
The spiritual care center is designed to support people of all faiths and is open 24/7 for reflection and funeral services.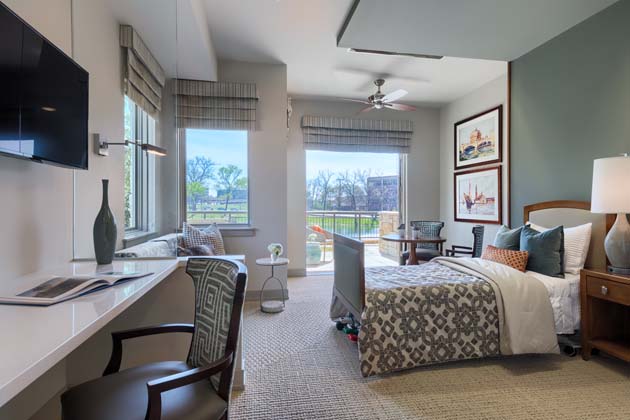 David Tonnes (PanaViz)
Patient rooms are designed to bring in abundant natural light and provide plenty of seating options for guests, all while creating a comfortable and functional environment.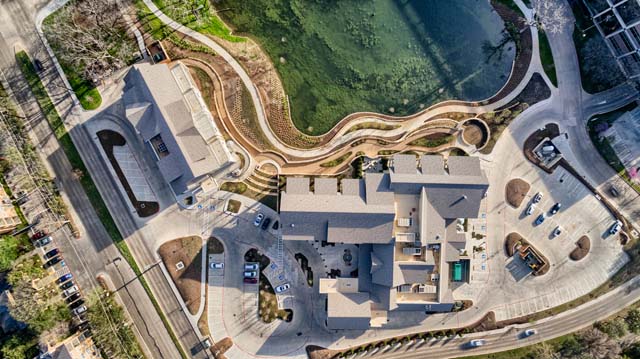 David Tonnes (PanaViz)
The preferred planning solution for the site was to separate facilities for inpatient care, education, and bereavement, allowing necessary distinction between functions such as care delivery and grief counseling.
---
After winning an Award of Merit in Environments for Aging's 2015 Design Showcase as a project in progress, the T. Boone Pickens Hospice and Palliative Care Center, operated by Faith Presbyterian Hospice in Dallas, returned to the competition this year as a completed project (January 2017). It once again overwhelmingly impressed jurors.
The design takes full advantage of a nearly 10-acre site that's home to a 5.4-acre pond, with its two main buildings designed around the serene setting that includes the pond, walking trails, and a fountain. Patient rooms not only have stellar views and abundant natural daylight but balconies large enough for beds to be wheeled out.
Another hallmark of the project is the close attention to detail paid to spaces that support family and staff members, who require areas to reflect and restore. Additionally, the project includes the Marnie and Kern Wildenthal Education Center, where the facility partners with universities, hospitals, and healthcare systems to support the latest training and education in hospice and palliative care—a component jurors applauded for helping to push the industry forward and establishing the project as truly unique in its sector.
The Award of Merit-winning project was submitted to the EFA Design Showcase by Faulkner Design Group and PRDG Senior Living Architecture (Dallas). Here, Stacy Peters, director of design of Faulkner Design Group, and Kathryn Busch, principal at PRDG, share their perspectives on how some of the jury's favorite design elements were achieved.
EFA: Jurors were impressed by the attention to detail in this project, that even the smallest elements were thoroughly thought out to address all aspects of the hospice journey for all building users. How did you approach this project and what research did you have to do to achieve this result?
Stacy Peters: Owner Presbyterian Communities and Services (PC&S) came to the table with a clear vision of what they wanted to achieve. Their vision was organized into "Five Centers of Excellence" (key service areas for the project, including hospice, education and resources, spiritual services, child and bereavement counseling, and outdoor reflection). This goal served as a compass for the team while we worked through the design process, from the initial sketches of the building to the finishing details. Initially, the team toured numerous hospice facilities across the country and feedback was gathered. Additionally, PC&S, through its Faith Hospice program, has a long history in the community of providing home hospice services, so we received continual feedback from the staff who work in the hospice environment daily. This research guided the design team to ensure we weren't only designing a beautiful environment, but also creating a fully functional building for the patients, staff, family, and friends.
Why did providing access to nature become such a critical piece of the project and how did the project team work together to ensure that it was executed as desired?
Peters: The connection to nature was a goal from the beginning; however, it was more challenging to obtain here because the project site is located in an urban setting surrounded by office buildings and multifamily communities. Connecting with the surrounding nature creates environments that are therapeutic, provides restorative benefits, and reduces stress and anxiety, which is beneficial for patients, families, and staff. We wanted to allow patients the opportunity to see and experience nature from their beds, so all patient rooms are located with a clear view of the pond, and extra-wide patios and double French doors were designed so the bed could be easily rolled onto the patio. The landscape architect (Mesa Design Group) played a crucial role on the design team and participated in all the conceptual planning meetings and throughout the design process to ensure we were designing a cohesive campus from the exterior to the interior.
As you referenced earlier, this is a large project that includes more than just the inpatient hospice, with an education center, reflection center, spiritual center, and bereavement center, as well. How did you approach the site and operational programming to ensure appropriate flows, privacy, etc.?
Kathryn Busch: The site had many challenges: multiple access points, significant grade changes, and a property association with rights to the pond. A connection to the pond for patients, family, visitors, and staff was a design goal set by the team. We created a hierarchy of public, semi-private, and private space. The existing walking path around the pond was maintained and remains public, as required by the association. The stepped retaining walls helped create a semi-private zone with the amphitheater and labyrinth accessible from the inpatient care center and educational resource center. Another series of retaining walls created a private zone accessible only from the patient rooms. Keeping the dignity of the patient in mind at all times, there are several public or private options for the arrival and departure sequences.
Jennifer Kovacs Silvis is editor-in-chief of Environments for Aging. She can be reached at jennifer.silvis@emeraldexpo.com.