2018 EFA Design Showcase: Making The Cut
---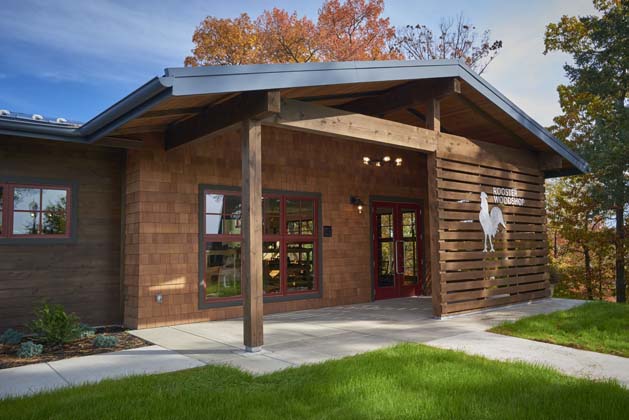 Nathan Cox Photography
The Rooster Woodshop replaces a smaller shop that was located in a former renovated chicken house. A core group of resident woodworkers collaborated with the design team to achieve their vision for the new space.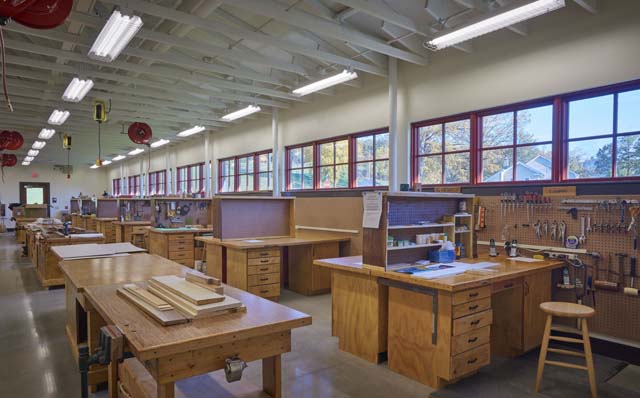 Nathan Cox Photography
Proper mechanical systems were integral to the design of the woodshop for filtration of dust and debris.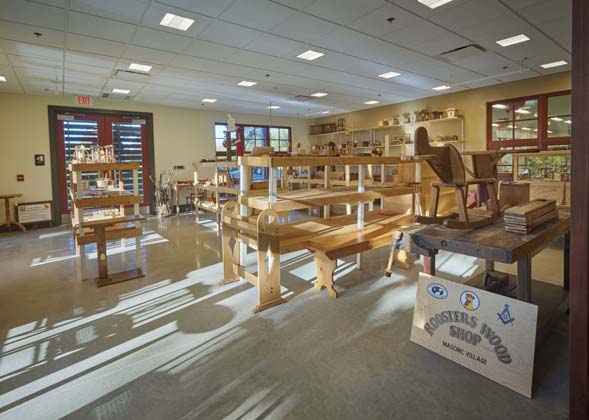 Nathan Cox Photography
The building includes a fully functional sales area that's open to the public. Shop access is controlled via key cards, and management is notified of showroom visitors via an alert system that activates a strobe light.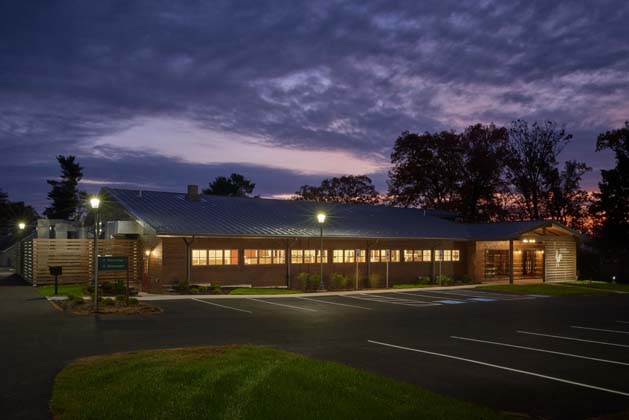 Nathan Cox Photography
A combination of metal and wood used on the exterior achieves a contemporary feel.
---
The Rooster Woodshop brings new meaning to a hobby room. This 8,000-square-foot building, completed in October 2016, houses a woodshop space, finishing area, and showroom open to the public. Inspired by the setting, the design team chose an agrarian architectural style for the structure that sits atop a ridge on Masonic Village's rural site in Elizabethtown, Pa.
Beyond aesthetics, the project had to achieve high standards for equipment and safety. The design integrates all the necessary systems to achieve adequate distribution of conditioned air, power, and pneumatic lines for tool operation, as well as dust collection. Workflow scenarios were reviewed in advance to ensure appropriate clearance requirements were achieved for the cutting and shaping of large pieces of lumber, with flow diagrams guiding space layouts and added safety mechanisms chosen, when possible, to reduce the likelihood of equipment-related injury.
Although the owner had final approval of designs, the woodshop was thoroughly guided by the input of resident woodworkers who helped the team identify solutions that supported their desired workflow and efficiency.
The Award of Merit-winning project was submitted to the EFA Design Showcase by RLPS Architects and RLPS Interiors (Lancaster, Pa.). Here, Daniel Godfrey, partner at RLPS, shares his perspective on how some of the jury's favorite design elements were achieved.
EFA: Jurors noted the extensive efforts made to make this a safe and functional space, from the shop equipment to necessary HVAC systems to the showroom where residents can sell their work. How much of a departure was this for you and what resources did you use to get it right?
Daniel Godfrey: Spaces such as woodshops are often an afterthought. Typically, they're relegated to a basement space just large enough to accommodate a few pieces of equipment for crafts and hobby-level projects. In this case, Masonic Village had grown its existing shop to the point where an expansion was absolutely needed. Since the size and program for the shop was far beyond what we've typically seen, our team spent a fair amount of time researching the building type and identifying systems that would be employed. Our greatest resources ultimately were three craftsmen who lead the Masonic Village woodshop group. They knew everything there was to know about their equipment and how they wanted their shop to function.
Tell us about the involvement of those residents and how their knowledge and passion for this craft guided the project.
The three craftsmen were our primary contacts during design. From the very beginning, they had a specific vision for what they wanted and needed. We met together regularly to review design iterations within the context of their desired workflow and equipment needs. This core group offered input, and they were respectful of the design team and allowed us to take their ideas and mold them into the end product.
The exterior is simple, but a lot of planning went into creating that aesthetic. What was the design process like to achieve something understated yet appropriate for the environment and use?
The agrarian context certainly informed the final aesthetic. Other constraints, such as site orientation, function, and budget, required that we maintain a simple expression of character. Ultimately, quality materials assembled in a simple way made the appropriate statement for this project.
What do you think this amenity space can teach other communities and designers about answering the needs of residents and supporting their interests in a meaningful way, even if on a much smaller scale?
Cultivating resident interests and personal development is vital to the success of any community. Spaces and buildings that host this sort of activity can become a sense of pride for the residents who use them. The Rooster Woodshop hosts 46 residents daily, and we're told that there's a waiting list to join the club. Buildings like this can be the centerpiece of a community's brand and a marketing gem. The need to provide spaces that allow continued personal growth cannot be undervalued.
Jennifer Kovacs Silvis is editor-in-chief of Environments for Aging. She can be reached at jennifer.silvis@emeraldexpo.com.