FIRST LOOK: Norterre
---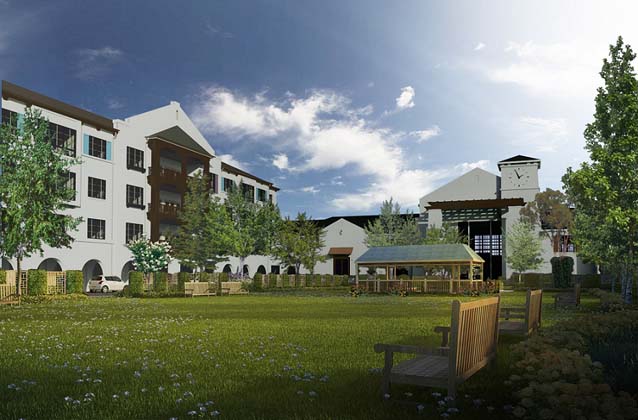 Action Pact Design
Norterre's greenspace is a community park and will be available for everyone to visit and enjoy. Designed to host performances, spontaneous gatherings, and festivals, the design team incorporated the principles of earth, wind, fire, and water, as well as elements tied to the past, present, and future of Liberty itself. Benches, sculptures, a performance stage, kids play areas, and native landscaping will also be incorporated.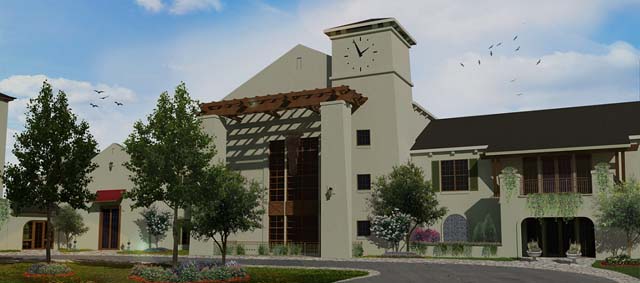 Action Pact Design
The Healthy Living Center will be at the center of the neighborhood for residents and community members to enjoy activities such as fitness classes, socializing, therapy sessions, classes at the demonstration kitchen, and learning about wellness. As the "town center," a clock tower was chosen as a nod to Liberty, Mo.'s past and to bring a familiar element to the architecture.
Action Pact Design
The short-term stay and long-term care residences are adjacent to the park and Healthy Living Center. Residents in long-term care will live in private rooms with no more than 20 people per household. The short-term stay suites offer first-class accommodations designed to make rehab patients and their families feel as comfortable and welcome as possible. A covered, air-conditioned walkway with natural light will connect the households to the Healthy Living Center.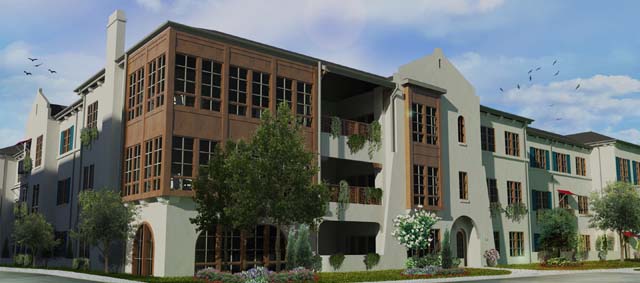 Action Pact Design
Each household in the assisted living and assisted living/memory support residences will have its own decorative theme, ranging from French country and mid-century modern to farmhouse and more. Natural wood elements and large windows bring warmth and familiar Midwestern elements to the noteworthy architecture.
---
Norterre wants to revolutionize senior living with a new multigenerational healthy living community in Liberty, Mo. This master-planned community is being built on a 17-acre site adjacent to Liberty Hospital and will include a variety of senior living residences, large greenspaces, and a 50,000-square-foot Healthy Living Center where people of all ages can come together to exercise, take classes, socialize, receive physical therapy, and learn about wellness.
The first phase, which is expected to open in summer 2017, will include the Healthy Living Center, 60 assisted living units, 20 of which will have memory support services, 20 long-term care residences, and 40 short-term stay rehabilitation suites for individuals of all ages. Future phases will add independent living and non-age-specific housing and retail.
The project investors, including Action Pact, Liberty Hospital, and Healthy Living Centers of America, envision a place where seniors, active adults, and young people will live, heal, play, and share experiences in a beautiful and healthful environment that includes rehabilitation, therapy pools, and specialized programs focused on wellbeing.
The architectural style of the community is unique to the Midwest, yet incorporates time-honored elements of the historical city. The exterior façades of all of the buildings will be constructed with light-colored exterior insulation and finishing system (EIFS) material, providing a fresh and appealing appearance for the area. The buildings will surround a large greenspace filled with outdoor art and cultural activities.
The Healthy Living Center will include a clock tower to add character and an historic identifier to the community. Further, the use of wood shutters and intricately designed handrails will add a sense of familiarity and Midwestern flair.
The senior living residences are designed using the household model. Each household can accommodate up to 20 people and will include an open kitchen, dining room, living room, and quiet spaces to relax and visit.
Once completed, Norterre's neighborhood will be a place for seniors and people of all ages to find a solution for a healthier lifestyle.