FIRST LOOK: Villaggio At San Luis Obispo
---
RRM Design Group
Villaggio at San Luis Obispo's centralized Village Piazza for all things entertainment for the community. It will be a localized gathering place for residents to enjoy the San Luis Obispo weather with its open-air design. The Main Street of the Piazza will include restaurants, movie theatre, fitness center and spa.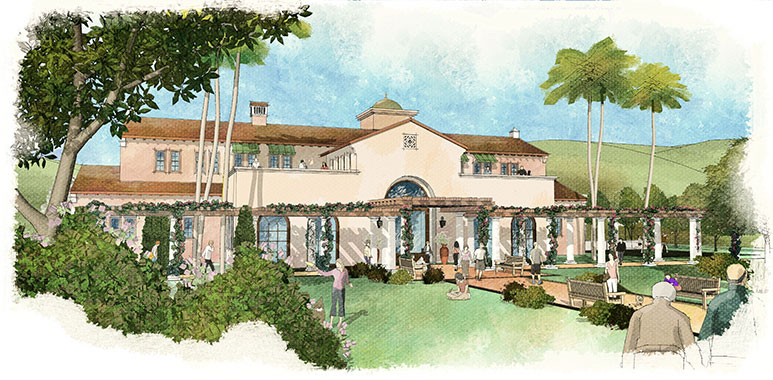 RRM Design Group
Villaggio at San Luis Obispo will feature a wellness and fitness center overlooking the rolling hills of Paso Robles.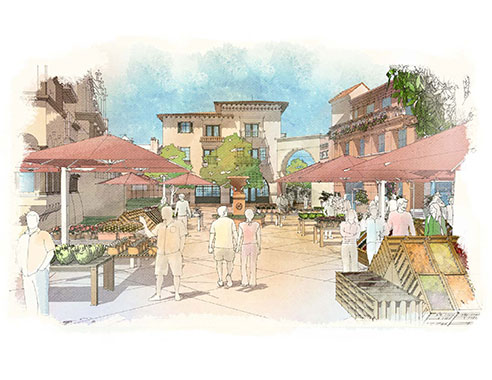 RRM Design Group
Villaggio at San Luis Obispo's farmers market will be located in the Village Piazza for residents to purchase locally-grown produce.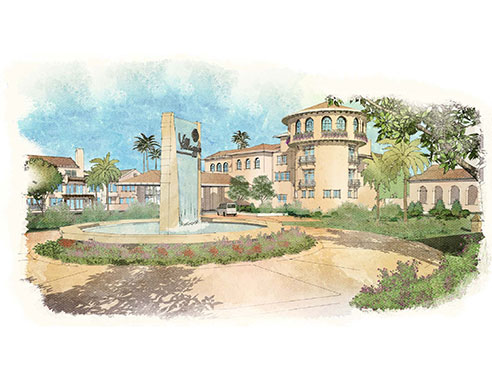 RRM Design Group
Villaggio at San Luis Obispo's entryway will include a centralized fountain where residents can enjoy the serenity, surrounded by lush greenery.
---
Villaggio at San Luis Obispo, currently in its development and entitlement process, will be a Mediterranean Village-designed Life Plan Community on the Central Coast, located midway between Los Angeles and San Francisco.
With an ever-growing senior population in San Luis Obispo, Robert Richmond, Villaggio's executive director of design and development, and Ray Walters, executive director of residency, enrichment and communications, recognized the need for a Life Plan Community, as there is no such offering for seniors within 90 miles of San Luis Obispo.
The challenge for Richmond and Walters was to find a suitable piece of land for a project of this magnitude. Within a two-year period, San Luis Obispo went through a growth and planning process in which the city eventually identified a 110-acre ranch adjoining the city limits that would be suitable for the future Villaggio community. Once the property was identified, Mark DeLotto, executive director of finance and administration for Villaggio, was brought on to manage the financing for the Life Plan Community.
Villaggio at San Luis Obispo will feature 366 independent living residences offering villas, garden terraces, Piazza apartments and village suites, as well as a resident-centered health center providing assisted living, memory support and skilled nursing.
Leveraging one of San Luis Obispo's best assets, the weather, Villaggio will feature a centralized Village Piazza offering an open-air design with a Main Street, multiple restaurants, café, courtyard gathering places and a full spectrum of amenities. Among amenities being considered are a spa, swimming pool, wellness and fitness center, movie theatre, library and creative art studio. Future residents who join as a Priority Member will help determine the amenity offerings. The site is also adjacent to miles of scenic walking and biking trails.
The open-air design of Villaggio at San Luis Obispo will enable easy access to the outdoors for walking and enjoying the surrounding natural splendor, a key factor for facilitating a healthy, active lifestyle.
Villaggio at San Luis Obispo will incorporate a sustainable and energy-efficient design along with corresponding materials to pursue LEED (Leadership in Energy and Environmental Design) certification by the U.S. Green Building Council. The eco-friendly community is being designed to integrate the newest in solar technology, water conservation using recycled water for landscaping, protecting the wetlands and preserving more than 30 acres of open space. Additionally, the dining venues at Villaggio will serve locally-grown produce.
Based on the pace of sales, which began with fully refundable priority deposits in March 2017, and obtaining required entitlements and financing, construction is expected to start in 2019. The projected completion of Villaggio at San Luis Obispo is targeted for 2021.
Villaggio is the first community to be established by Villaggio Communities, a San Luis Obispo-based senior living development company. LCS Development, with more than 46 years of experience in designing and developing senior housing nationwide, is consulting with Villaggio to assist in the development and marketing of the community.