PHOTO TOUR: Watercrest of San Jose
---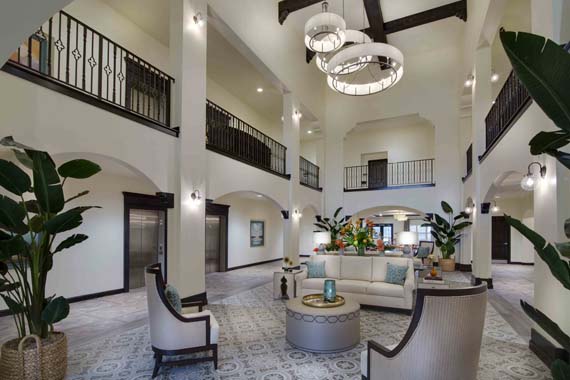 Michaellowryphotography.com
The main entryway to Watercrest of San Jose features double-height ceilings, custom arches, and custom lighting, which mimics the arches.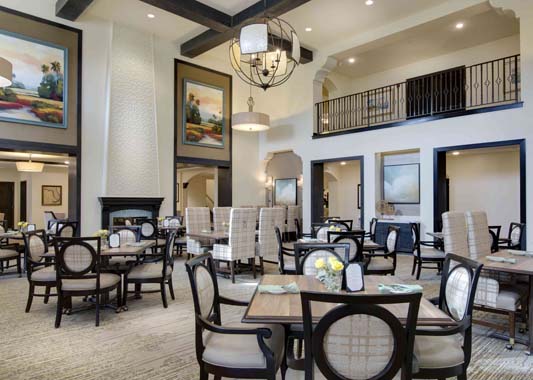 Michaellowryphotography.com
Dark wood tones contrast with the light color palette and provide warmth. Patterns are used in a variety of ways, but within the same color palette, to create a cohesiveness throughout the large space.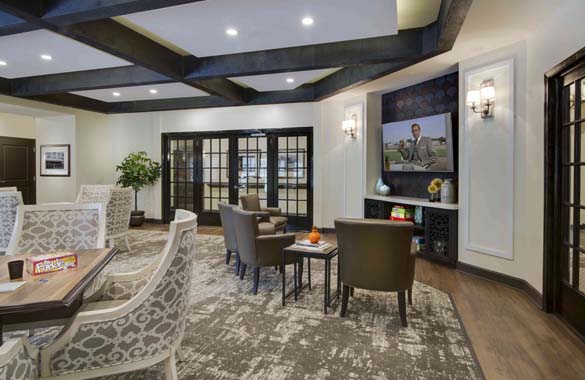 Michaellowryphotography.com
This resident lounge area provides a place to watch television, enjoy a cup of coffee, or play games. The medallion pattern is featured in the custom media cabinet; wood beams add to the cozy and comfortable atmosphere.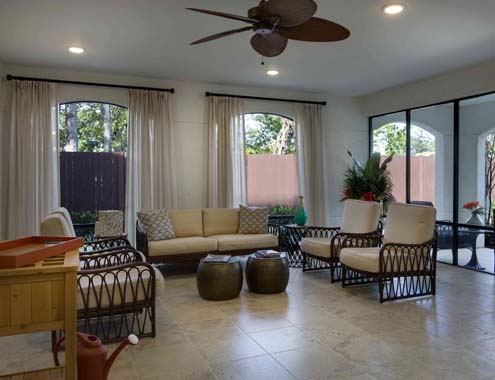 Michaellowryphotography.com
The community includes Florida rooms, which are an integral part of the culture of the area, with custom outdoor seating.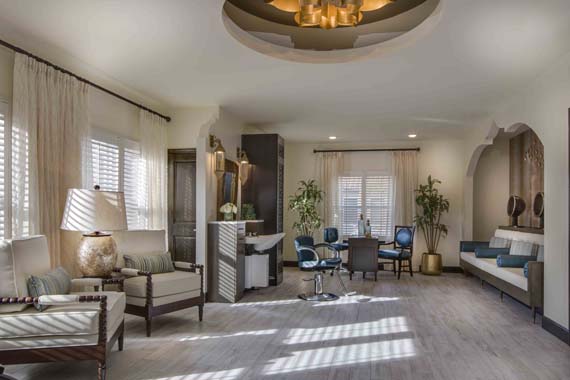 Michaellowryphotography.com
Designers used cool blue accents in the pillows and chair upholstery, custom lighting, arches, and furniture to make the spa and salon feel like a destination.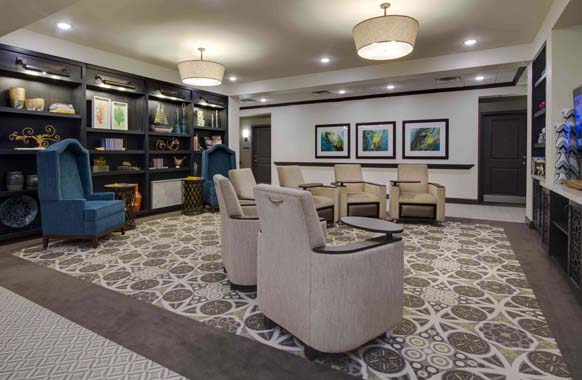 Michaellowryphotography.com
Additional sitting and television areas are beginning to replace the libraries of the past. Custom recliners with trays allow for a variety of uses for the space, such as lunches, presentations, or other activities.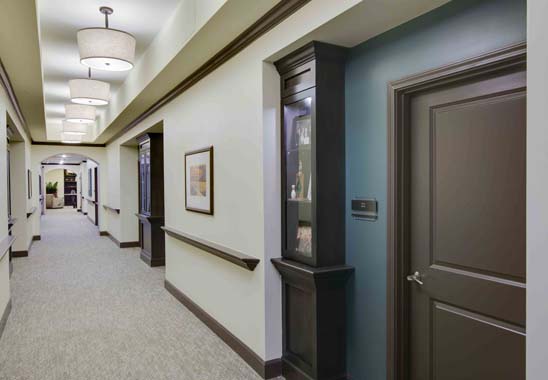 Michaellowryphotography.com
Custom built-in display cases are located next to each room for family members or residents to show off items of significance. The familiar items also help memory care residents to identify which room is theirs.
---
Watercrest of San Jose in Jacksonville, Fla., offers modern, resort-style senior living while incorporating elements of the Spanish and Mediterranean charm of its San Jose neighborhood. The nearly 80,000-square-foot assisted living and memory care community has a total of 90 units. The project broke ground in May 2015 and opened in September. The project team includes developer Starling (Jacksonville), operator Watercrest Senior Living Group (Vero Beach, Fla.), interior design firm StudioSIX5 (Austin, Texas), and architecture firm PQH Group (Jacksonville, Fla.).
StudioSIX5 drew inspiration from local architecture by touring local country clubs and historic buildings. The overall design of the rooms is light, bright, and airy with a warm neutral color palette with pops of color provided in the picture frames, pillows, and other decorative touches. Architectural arches and soaring ceilings add to the overall look and feel of the community.
A two-story entryway with a custom light fixture designed by StudioSIX5 draws the eye up and evokes a feeling of the entries at high-end hotels. Spanish tiles flank the risers on the grand staircase and add interest and color. These architectural elements while bright finishes with rich tones of wrought iron and dark woods add a Spanish and Mediterranean feeling. A medallion print serves as a running motif throughout the entire community and is incorporated into fabrics, custom furniture, carpeting, and millwork.