At Home: Urban Hospice, Copenhagen, Denmark
---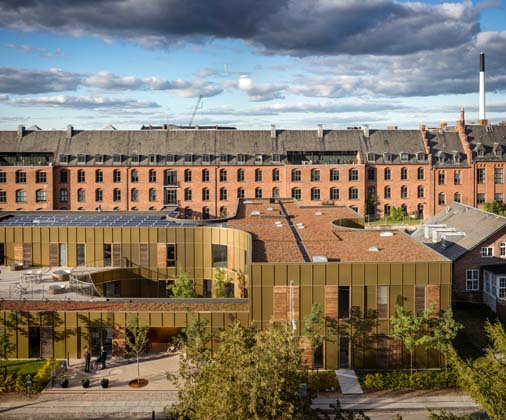 Adam Mørk
The hospice was designed to fit on a compressed urban site by breaking up the volume and creating smaller units. The two-story facility has a roof-top terrace, while the semicircular cutouts around the perimeter house small courtyards.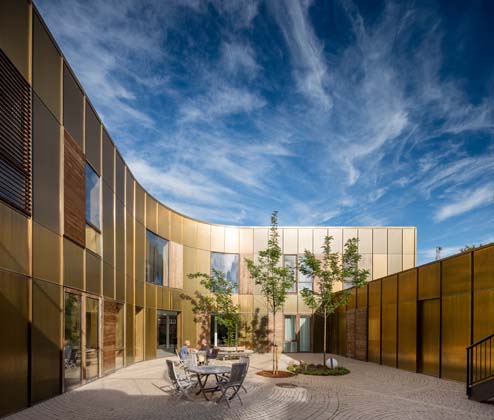 Adam Mørk
The courtyards are designed as common spaces for staff, patients, and families and are accessible from inside the hospice.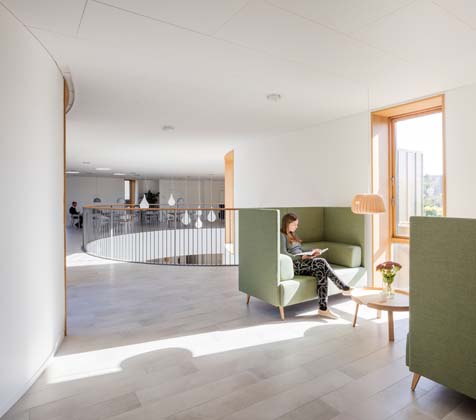 Adam Mørk
The hospice's central common area is designed in a curved format with private and open seating areas placed throughout to support patients' and family members' different needs.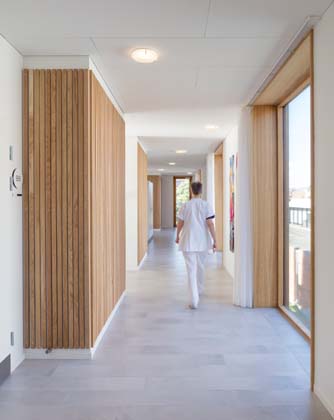 Adam Mørk
Large windows provide access to changing levels of daylight and shadows throughout the day, while the wood paneling and frames add texture and a tactile quality to the serene environment.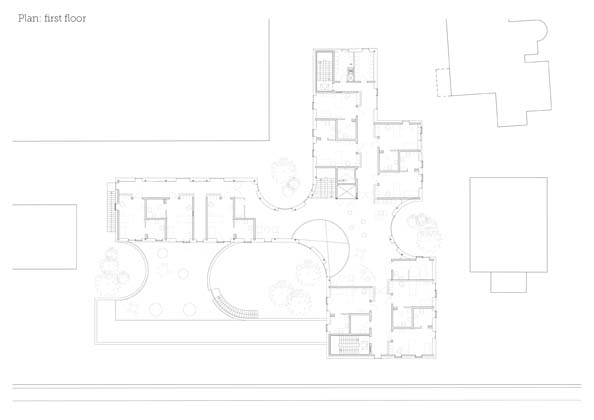 Adam Mørk
On the first floor, private rooms are placed in all three wings with access to the rooftop deck.
---
Hospice facilities provide a place where the terminally ill can be cared for in their final days. In Denmark, they've traditionally been located in the countryside or just outside cities to take advantage of the country's picturesque natural landscape, says Morten Gregersen, partner and architect at Nord Architects (Copenhagen, Denmark). But demand for an alternative is growing.
In 2013, the Diakoniss Foundation (Frederiksberg, Denmark), which operates hospice, medical, and rehabilitation facilities, began working with Nord to build the country's first urban hospice. "[It] reflects a wish and need from people living in the cities their whole lives and wanting to stay 'at home' where they belong until the last moment," says Gregersen, whose firm was the lead consultant providing design and management services on the project. "The urban perspective is also a question of dying close to and surrounded by your relatives."
The Urban Hospice opened in Copenhagen, Denmark, in summer 2016. The 24,036-square-foot facility is located on a tight site in a densely populated neighborhood with nearby historic buildings. To overcome the site constraints and complement neighboring residences, the design team, which collaborated with MASU Planning (Struenseegade, Denmark) and Ramboll (Copenhagen), decided to give the two-story facility a residential scale. Additional, the building volume was broken down into smaller units that are shaped to fit between the nearby buildings while still providing an optimal layout for caretaking. "The fluidity of the plan makes the building and the flow more dynamic, compact, and human," he says. "It's less institutional."
A varying composition of wood and tomback, a brass alloy with high copper content, gives the façade a warm look. To ensure the setting still offers natural views within its urban location, the design team incorporated small landscaped courtyards inside semicircular cutouts around the perimeter of the building as well as a rooftop deck with terrace, providing palliative patients and families several places where they can step outside.
The use of curvilinear forms continues inside where the central common areas on both floors wind around a private inner courtyard. Seating areas with a variety of furniture, including couches, high-back chairs, and tables and chairs, provide multiple settings for conversation and respite. "The heart of the building is the community of the house where the users and relatives have the chance to meet each other, join activities and events, and get in contact with the staff," Gregersen says.
The hospice's 16 private rooms with adjacent bathrooms are located on both floors and include a sleeping couch for a relative to stay overnight, wireless internet access, a TV, and music system. Gregersen says the Scandinavian materials palette of white colored walls and flooring and warm wood accents creates a homey feeling that's unlike other healthcare settings in the country.
The aesthetic also supports the overall goal of the project, which was creating "a good place to die," Gregersen says. "This is a place you and your family choose for a meaningful farewell, that gives relief for the dying person and time for ending and perhaps for starting new relationships with other people you meet there. The impression of materials, lights, sounds, and atmosphere are parameters with enormous impact on the experience."