PHOTO TOUR: Arkansas State Veterans Home at North Little Rock
---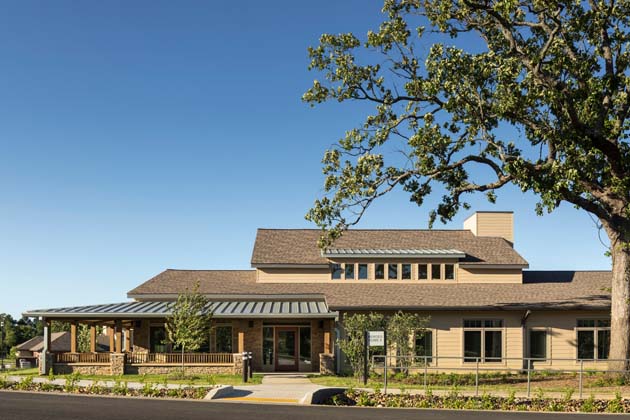 ©Sarah Mechling, Perkins Eastman
The design team and client wanted to create a community that moved away from a connected or conventional model of small house to that of a single-family home community, while remaining respectful of the natural site.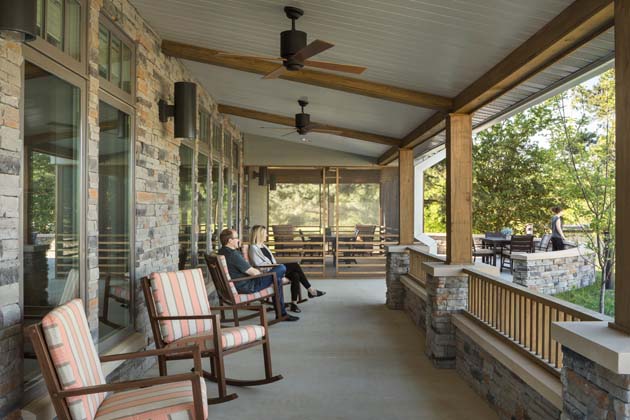 ©Sarah Mechling, Perkins Eastman
Front porches on each home look onto the street to foster a greater sense of community and serve as an informal gathering place, as well as a way to control solar exposure into the common spaces.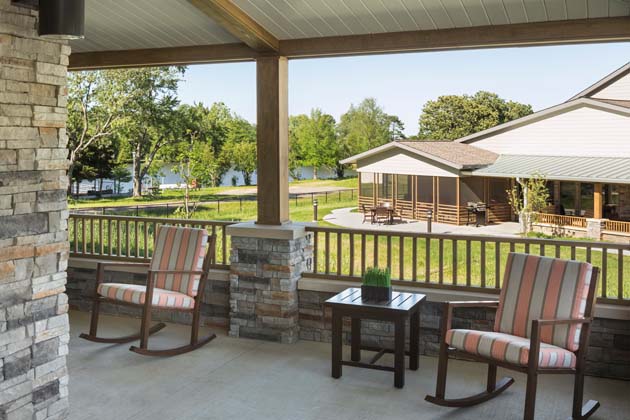 ©Sarah Mechling, Perkins Eastman
Each household's rear screened-in porch is designed to have a quieter, more intimate character. The addition of removable windows allows for multiseasonal enjoyment.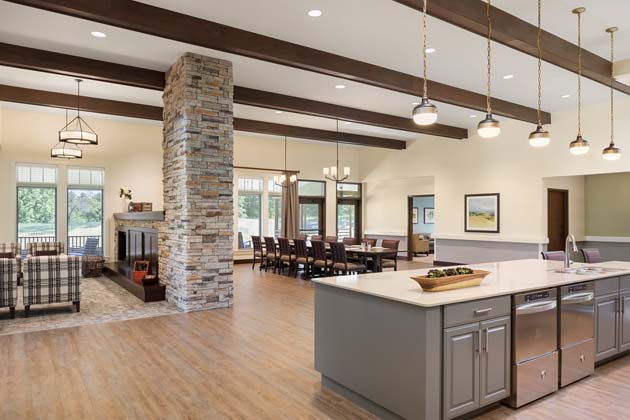 ©Sarah Mechling, Perkins Eastman
Household common areas such as the living room, study, dining room, kitchen, and den are interconnected through open floor plans.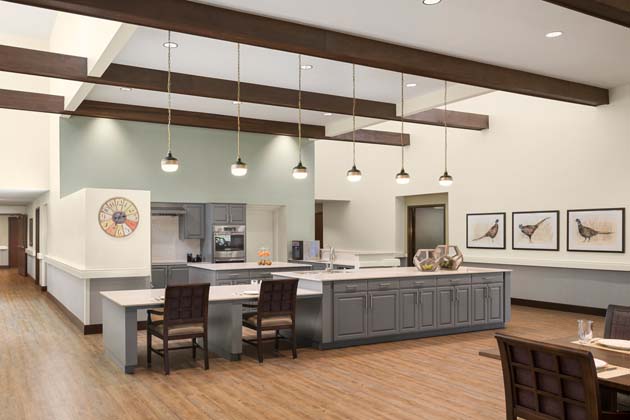 ©Sarah Mechling, Perkins Eastman
Each home has a communal kitchen, which features dual-height island counters, high ceilings for proper ventilation, and nourishment refrigerators and microwaves placed at accessible heights to promote independence among residents.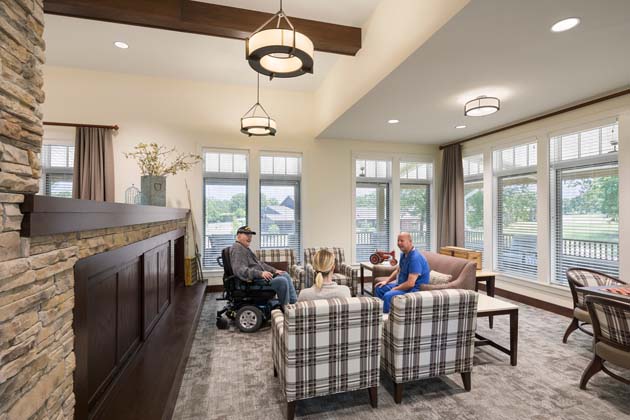 ©Sarah Mechling, Perkins Eastman
Living rooms in each household are designed to promote connections among residents with spaces for gathering and conversation.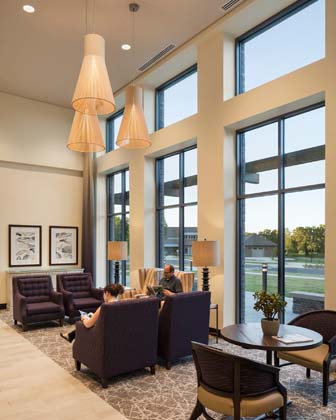 ©Sarah Mechling, Perkins Eastman
The goal for the community building was twofold: to have a place to provide necessary services that could not be accommodated in the homes and to have a larger gathering place for veteran residents, their families, and friends, as well as veterans from the greater community.
---
The Arkansas State Veterans Home at North Little Rock in North Little Rock, Ark., was built to support the state's population of aging veterans and Gold Star families. The homes were designed to meet and exceed updated guidelines set by the Arkansas Department of Veterans Affairs (ADVA) that focus on a smaller, resident-centered model of care.
Before starting the project, the ADVA performed an analysis of its housing stock and level of care throughout the state and determined that there was a need for not only more but better quality housing. Responding to market demand for more resident-centered and less institutional care models, especially for veterans, the ADVA envisioned a homelike environment that could be personalized and focused on community, where residents of different ages and abilities could co-exist in a flexible living space.
The Arkansas State Veterans Home at North Little Rock was designed using the VA's Small Home Model Design Guide (formerly Community Living Center Design Guide) and features eight resident homes in a compact pinwheel formation, which maximizes views to the outdoors, with a community building in the heart of the campus.
Each of the 9,600-square-foot homes features 12 private resident rooms with bathrooms that are arranged around a shared living room, study, dining room, kitchen, and den. These common areas feature abundant natural light and ventilation through the use of large windows and clerestory glazing.
The households are designed to accommodate a variety of populations, including long-term care, dementia, respite, and rehabilitation. Ceiling lifts are included in each resident room to assist staff with transfers, and individual medicine servers are placed in room entries to decrease the amount of carts that can end up in hallways, lessening the institutional feel of the homes.
Careful consideration was made to find a serene and scenic site for the new homes that wasn't isolated. The new community is situated on a former golf course adjacent to an expansive park overlooking the Arkansas River and within the historic Fort Logan H. Roots military base campus in North Little Rock, which includes the VA Hospital of North Little Rock and the University of Arkansas' Pulaski Technical College. Porches on each home provide immediate connections to the outdoors, with a front porch providing an informal gathering place while a rear screened-in-porch offers a quieter, more intimate setting.
The centrally located community building features a space for rehabilitation services, which supplement therapy sessions that take place in the residents' homes, as well as offers an ideal space for large events, performances, classes, and other group activities for residents and veterans from the surrounding region.
In order to facilitate an integrated design process, the Perkins Eastman design team, led by principals from the firm's Chicago office, held a series of meetings with both state and federal governmental agencies, experts on aging care and skilled nursing, and architects, engineers, and related design consultants to ensure collaboration between architecture, interiors, and landscape design. The first stage of the project was completed in fall 2016 and consisted of eight resident homes, a community building, and maintenance building. Future plans include adding four resident homes and expanding the community building.

Project details:
Facility name: Arkansas State Veterans Home at North Little Rock
Location: North Little Rock, Ark.
Completion date: October 2016
Owner: Arkansas Department of Veterans Affairs (ADVA)
Total building area: 87,100 sq. ft.
Design Architect: Perkins Eastman
Interior design: Perkins Eastman
Architect of Record: Polk Stanley Wilcox
Landscape Architect: Ecological Design Group
Civil Engineering: Ecological Design Group
Structural Engineering: Kenneth Jones & Associates, Inc.
MEP: TMC, Inc.
Contractor: Craig Custom Construction