PHOTO TOUR: Áegis Living of Queen Anne At Rodgers Park
---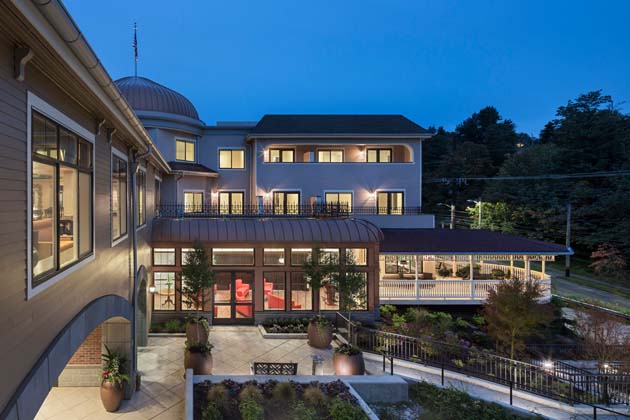 © Paúl Rivera
The entry at Queen Anne at Rodgers Park's leads to the porte cochère's broad archway. The overall layout ties together archetypal architectural elements that are characteristic of the community's historic Queen Anne neighborhood.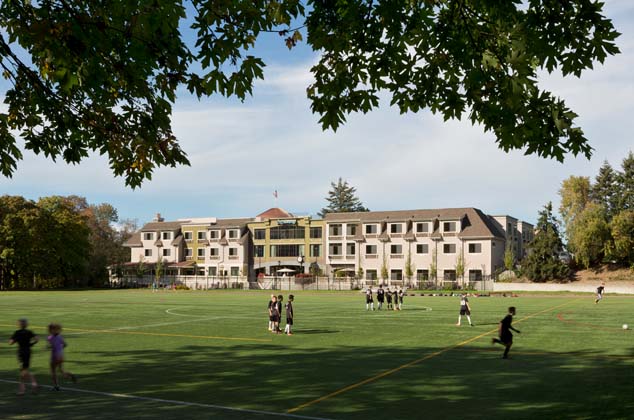 © Paúl Rivera
The community frames the Rodgers Park playing field, providing residents with the opportunity to observe local youth sporting events.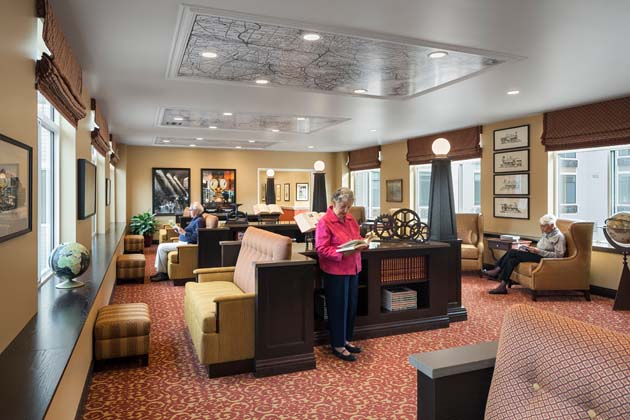 © Paúl Rivera
The library is positioned above the porte cochère and has a bridge-like layout that allows for ample natural light. The interior finishes evoke turn-of-the-century train rooms, complemented by millwork bookshelves and Edwardian detailing.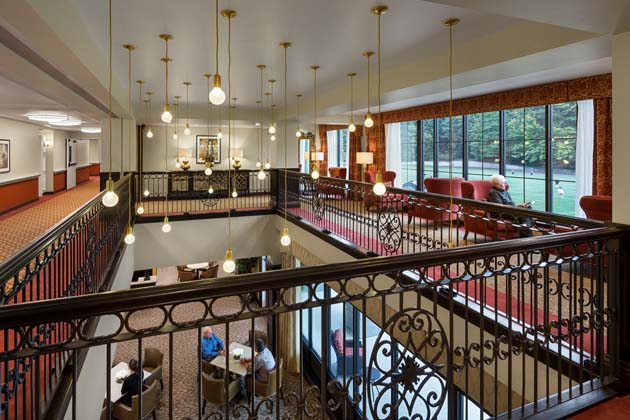 © Paúl Rivera
Overlooking the expansive living room sits the Queen Anne Bowl viewing room, accentuated by hovering "Harry Potter" lights that seem to float inside the balustrade.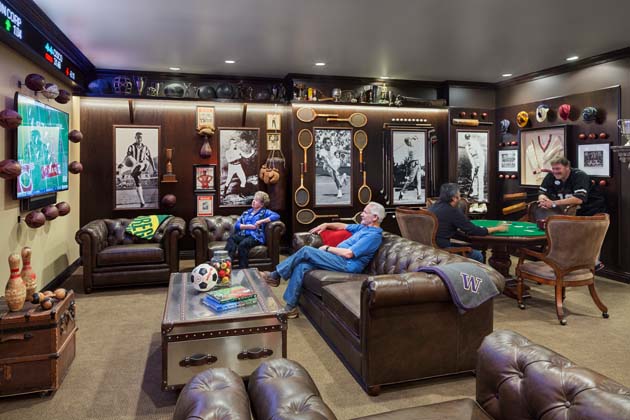 © Paúl Rivera
The sports bar and den, called Pickwick's, is fitted with authentic regional sports memorabilia, big screen TVs, and a real-time stock ticker, providing the ideal getaway for sports enthusiasts.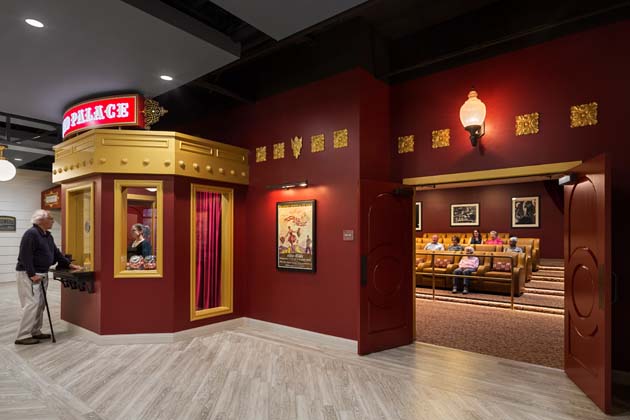 © Paúl Rivera
In keeping with the building's neighborhood context, the basement level is designed to resemble a beachside boardwalk with weathered flooring laid in a herringbone pattern and amenity spaces arranged in a series of storefronts, including a Grand Palace movie theater.
---
Áegis Living, a Redmond, Wash.-based assisted living and memory care provider with 29 communities throughout California, Nevada, and Washington State, began its newest development in 2013 with a vision for a full-service community in Seattle's North Queen Anne neighborhood. The design goal was to create a community that complemented and paid homage to the area's historic Victorian architecture and represented the next generation of senior housing.
The new Áegis of Queen Anne at Rodgers Park opened in 2016. Designed by Perkins Eastman (San Francisco office), the exterior's Victorian architectural features connect the new community to its historical neighborhood, including roof dormers, a wrap-around porch, a large jeweler's clock, a decorative masonry chimney, and a large hemispherical dome that anchors the building.
The pedestaled three-story building provides 129 assisted living and memory care apartments, including studio and one- and two-bedroom options. The building's interior halls, dining rooms, and common spaces feature crafted filigree paneling and metalwork, open fireplace hearths, and ornate lighting fixtures that feel more like a grand hotel than an institutional care setting.
On the ground level, amenities are oriented along a boardwalk, including a fitness studio and pool, arts and crafts room, salon, barbershop, and juice bar, as well as the Grand Palace movie theater and Pickwick Club sports den.
Sustainable design elements are present throughout the campus and integrated in such ways that complement the overall context. Light-colored roofing and surface pavement, a green roof on the community building, new storm water management system, and water- and energy-efficient appliances are just some of the measures in place.
Additionally, the community's landscaping preserved common and exceptional large trees native to the region during construction to meet Seattle Green Factor, a score-based code requirement that increases the amount and improves the quality of landscaping in new developments. The community is also four-star rated for multifamily residential new construction set by Built Green, an environmentally-focused, nonprofit building program of the Master Builders Association of King and Snohomish Counties.
In addition to the community's distinct design approach, Áegis Living has placed a premium on forging strong community relationships. To support the in-house nursing staff, Aegis of Queen Anne at Rodgers Park has partnered with the University of Washington School of Medicine to provide in-home primary care services for residents.
Project breakdown:
Name: Áegis of Queen Anne at Rodgers Park
Owner: Áegis Living
Start of construction: 2013
End of construction: 2016
Total building area:104,200 gross square feet
Site work: 1.86 acres
Design architect: Perkins Eastman
Interior designer: Perkins Eastman
General contractor:  Compass Construction
Civil engineer:  KPFF Engineers
Structural engineer: DCI Engineers
MEP engineer: Interface
Landscape design:Berger Partnership
Arborist: Margarett Harrison, Harrison Design
Kitchen design: Clevenger Associates