PHOTO TOUR: The Jack Byrne Center for Palliative and Hospice Care
---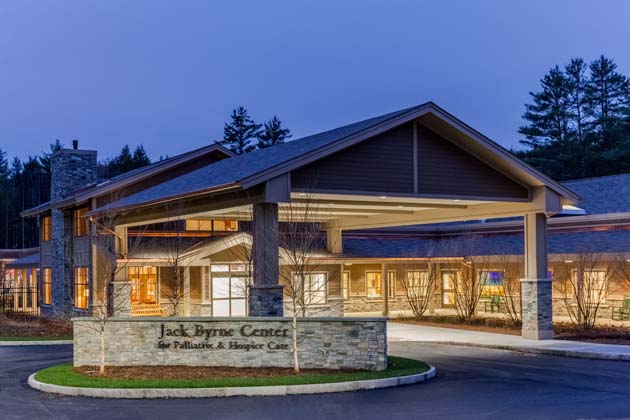 Brian Vanden Brink
The architecture of the main entrance reflects a mountain lodge and fits in within the wooded campus of Dartmouth-Hitchcock Medical Center in Lebanon, NH. Abundant landscape features and a generous canopy welcome and protect visitors and those patients who may arrive by ambulance.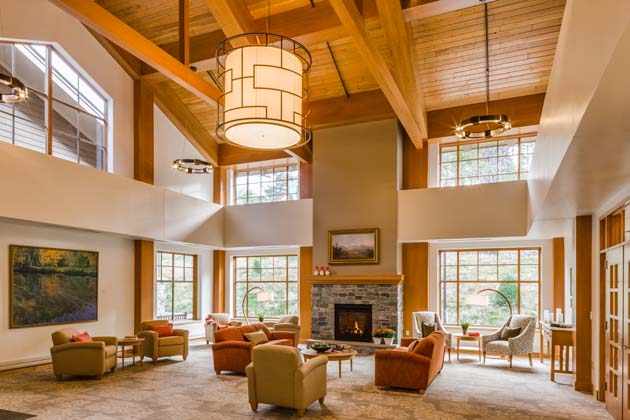 Brian Vanden Brink
The arrival sequence continues into the Great Room, which features an abundance of natural light, fireplace, and comfortable seating. Cherry wood materials are used throughout the facility.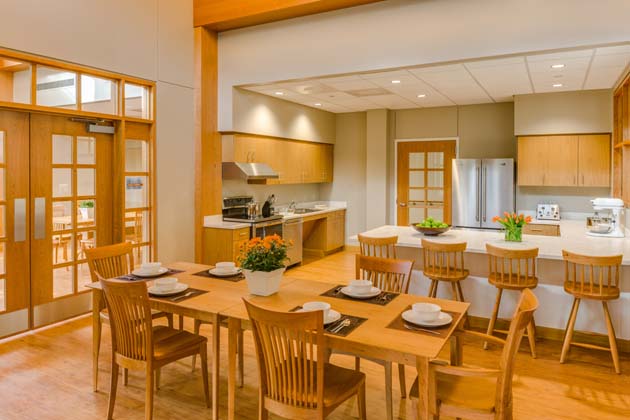 Brian Vanden Brink
The kitchen is the heart of the home, allowing families who stay at the center to prepare meals for themselves and their loved ones. The eat-in kitchen adjoins the Great Room and a conference/dining room for larger gatherings and catered events.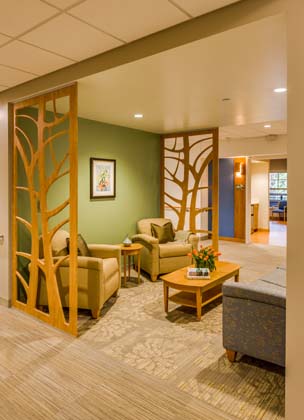 Brian Vanden Brink
Smaller sub-waiting areas are strategically placed throughout the facility to allow family members or visitors to be close by, but not in the patient's room when private time is needed.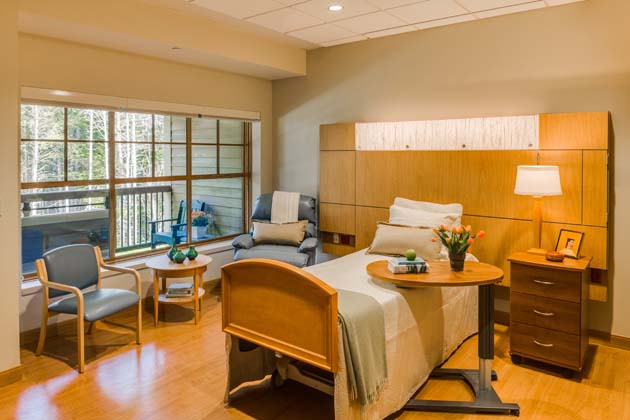 Brian Vanden Brink
All bedrooms are private with space to accommodate family members staying overnight. A covered balcony overlooks the woodlands on the site. French doors allow patient beds to be moved to the balconies when weather permits.
---
Dartmouth-Hitchcock Health System expanded its services with the opening of The Jack Byrne Center for Palliative and Hospice Care at its Lebanon, N.H., campus. The 30,200-square-foot project, which launched in 2014 with a $10 million donation by the Jack and Dorothy Byrne Foundation, broke ground in June 2016 and was completed in November 2017.
Designed by E4H Architecture (Burlington, Vt. office) and constructed by PC Construction (South Burlington, Vt.), the one-story building features 12 large, single-occupancy rooms, with space to accommodate six additional patient rooms to serve anticipated growth.
The patient rooms are designed to feel homelike with private bathrooms, abundant natural light, and outdoor balconies, as well as space to accommodate up to three family members for overnight visits. Several inviting respite spaces are available to patients and families, including a meditation and reflection room/chapel, sunroom, massage room, spa, art and music therapy rooms, and family library. Additional therapeutic spaces include an exercise room, playroom for small children, and media room.
The center provides a commercial kitchen for staff-prepared patient meals, as well as a residential-style kitchen and dining room where families can prepare and host meals together. The center is also equipped with multiple telehealth videoconference connections, giving patients access to a range of expert consultations.
The building incorporates a geothermal heating and cooling system, LED lighting technology, and high-efficiency mechanical and electrical systems. Where possible, products and finishes were locally sourced and made from natural or recycled products.
The Jack Byrne Center for Palliative and Hospice Care will also serve as an educational and training resource for end-of-life caregivers throughout New England.
Project details:
Facility name: The Jack Byrne Center for Palliative and Hospice Care
Location: Lebanon, N.H.
Completion date: November 2017
Owner: Dartmouth-Hitchcock Health System
Total building area: 30,200 sq. ft.
Total construction cost: $16.5 million
Cost/sq. ft.: $546 (including sitework)
Architecture firm: E4H Architecture
Interior design: E4H Architecture
Contracting: N/A
Engineering: Fitzemeyer & Tocci Associates, Inc., Engineering Ventures, Wagner Hodgson
Construction: PC Construction