PHOTO TOUR: The Springs At The Hacienda At The River
---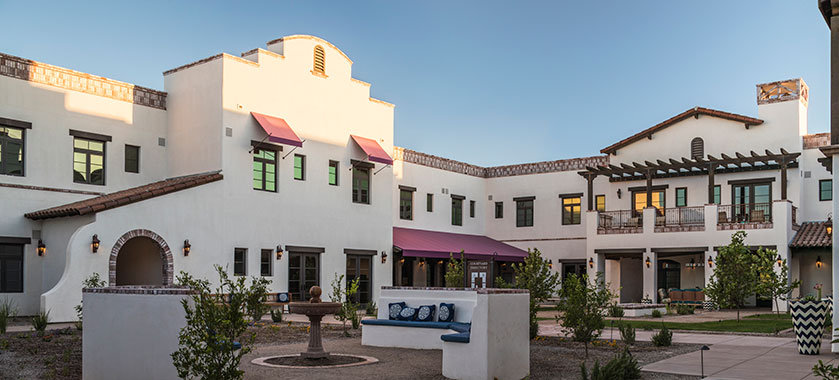 © CallisonRTKL Inc.
Residents, staff, and family members enjoy access to a central internal courtyard with a fountain, citrus garden, and quiet alcoves designed for rest and reflection.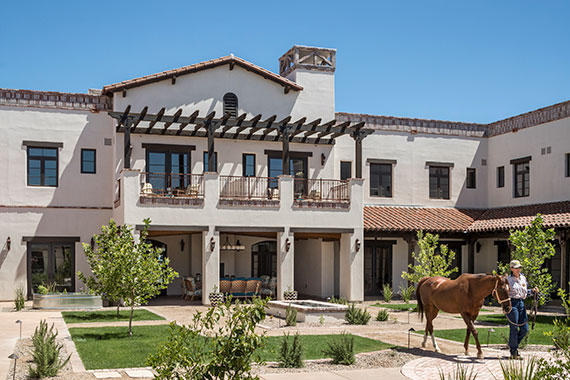 © CallisonRTKL Inc.
The Springs at The Hacienda at the River balances traditional Spanish hacienda-style and Southwestern architecture, including a low-pitched red tile roof, stucco walls, and arched entryways. In the central courtyard, the community offers an on-site equine therapy program, which allows residents to interact with horses according to their interests and abilities.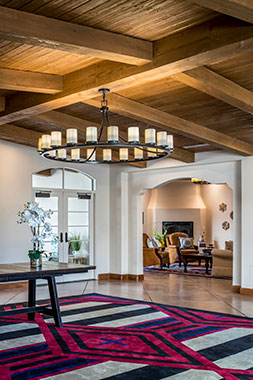 © CallisonRTKL Inc.
The main lobby features a polished concrete floor with an inset custom rug and exposed wood ceiling and beams. The lobby connects to a cozy seating area with a fireplace and the internal courtyard.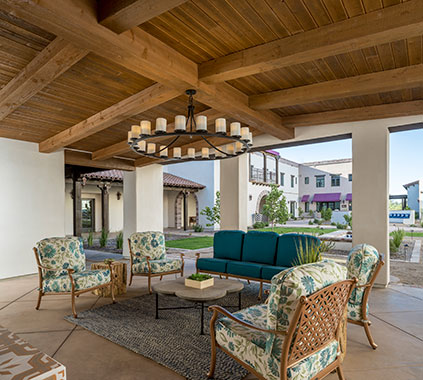 © CallisonRTKL Inc.
Polished concrete flooring and exposed wood beams are carried throughout the community's interior and exterior spaces, including this outdoor seating area.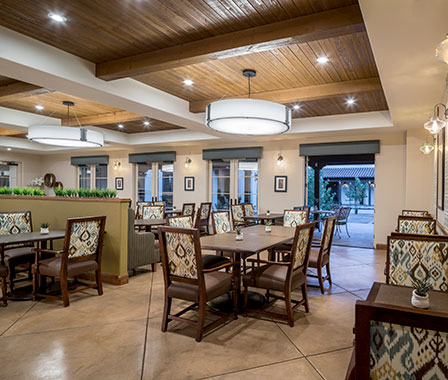 © CallisonRTKL Inc.
The main dining room looks out to the central courtyard with adjacent indoor and outdoor seating.
© CallisonRTKL Inc.
Private terraces fill a second-story resident room in the skilled nursing building with natural light and views of the Catalina mountain range.
---
By blending hospitality and residential design principles, a comfortable and supportive senior living setting was created for The Springs in Tucson, Ariz. Opening in April 2017, the 75,000-square-foot skilled nursing and hospice community is part of The Hacienda at the River, a 7.5-acre campus owned by Watermark Retirement Communities (Tucson, Ariz.), which also offers assisted living, memory care, and on-site equine therapeutic programming.
The Springs comprises 12 hospice beds in a one-story building and 50 short-term care beds and 14 long-term care beds in a two-story skilled nursing building. Each skilled nursing unit contains 14-15 rooms and a dedicated gathering space and outdoor balcony. An internal courtyard, dining hall, and healing garden connect the two buildings.
Large open spaces, such as dining and living areas, were planned with smaller, more intimate zones within them that break down the scale and feel more residential. Outdoor gathering spaces and intimate second-story balconies provide resort-style amenities.
Designers from CallisonRTKL (Los Angeles) maximized the community's location along the Rillito River in Tucson to provide access to fresh air and natural light, with operable windows providing cross ventilation and views of nearby mountains, the river, and the community's internal courtyard. Design strategies, such as limiting the size of the windows, help mitigate heat gain and sun glare.
A Southwestern vernacular was used in the interior and exterior architecture, inspired by Tucson-based modernist architect Josias Thomas Joesler. Earth-toned stucco walls blend with the local landscape and are coupled with a light-colored materials palette and a red tile roof, which serve as a passive cooling technique to limit solar and heat gain within the context of the hot, sunny locale. Inside, exposed wood-beam ceilings and polished, colored concrete flooring are paired with bright white walls, lending a modern spin to the old-world aesthetic.
Project Source List: 
Client: The Freshwater Group, Inc./Watermark Hacienda Tucson, LLC
Architect: CallisonRTKL
Consulting architect: Indevco Partners
Structural: J.A. Martin & Associates
MEP:  WSP
Interiors: Goebel Interiors
Landscape: GRS Landscape Architects
Food Service: Corsi Associates
Civil: Presidio Engineering
General Contractor: The Weitz Company