Talk Of The Town
---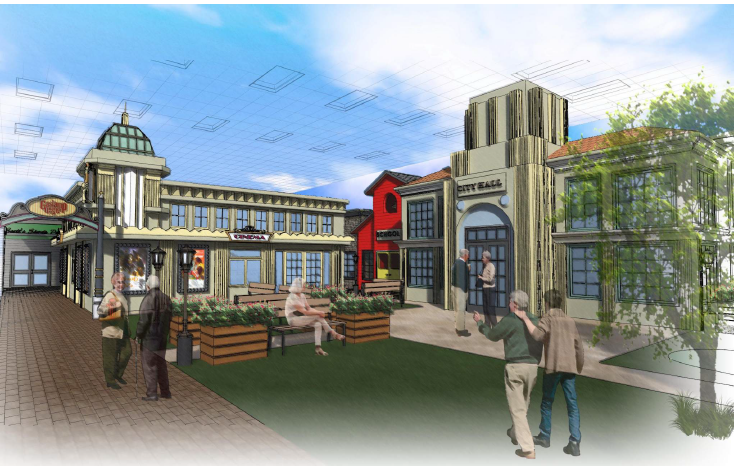 Douglas Pancake Architects (Irvine, Calif.)
Town Square is being built inside a warehouse to resemble a town in the 1950s featuring themed storefronts.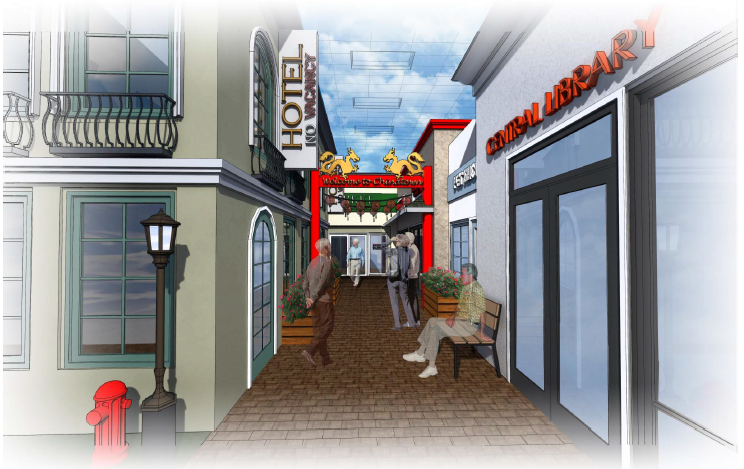 Douglas Pancake Architects (Irvine, Calif.)
The immersive day care will include a city hall, movie theater, and pet shop.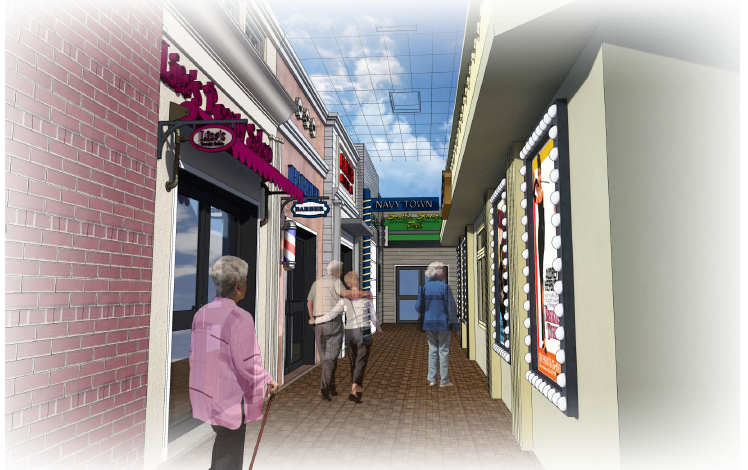 Douglas Pancake Architects (Irvine, Calif.)
Activities based on reminiscence therapy will be held within each themed area.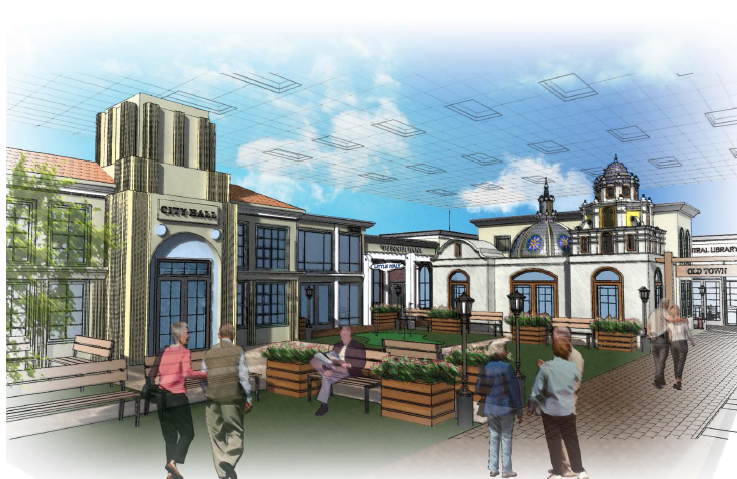 Douglas Pancake Architects (Irvine, Calif.)
The day care is expected to open in 2017.
---
George G. Glenner Alzheimer Family Centers Inc. uses reminiscence therapy at its day care centers for seniors with Alzheimer's and other forms of dementia, relying on familiar items to help bring back memories and prompt conversations. As part of the program, the staff plays old music, shows pictures, and encourages participants to interact with a classic car, for example.
Lisa D. Tyburski, director of business development at George G. Glenner Alzheimer Family Centers Inc. (San Diego), which operates three California-based adult day care centers in San Diego, Chula Vista, and Encinitas, says seniors with dementia often become frustrated because they're aware that they're not remembering things and have difficulty following conversations. "Independent research has shown that when you can bring them to a place where they do remember and they do relate, it reduces agitation and improves sleep and mood," she says.
Next year, the non-profit organization will engage seniors even further when it opens Town Square, a 9,500-square-foot immersive day care designed to look like a town from the 1950s (a time when most of its users would have been in their 20s or 30s). The center is being built inside a renovated warehouse in Chula Vista and will house a variety of settings such as a diner, museum, car repair shop, city hall, movie theater, and library. "The whole environment will be immersive," Tyburski says. Seniors will rotate to different areas within the town for assigned activities, based on their interest. For example, there will be a department store where seniors can "shop," a museum curated by the San Diego Air and Space Museum to explore, and a diner where meals will be served.
Historical artifacts will be used to create as authentic a setting as possible; however, all the design features must be approved by Glenner's board of directors, which includes doctors and Alzheimer's experts who have provided feedback on details such as dementia-friendly colors and materials. For example, Tyburski says the project team selected a neutral flooring instead of a traditional black and white checkered flooring for the diner, because individuals living with dementia may perceive a black square in the flooring as a hole.
Tyburski says the idea for the project was inspired by a local program for school kids that immerses them in a 10,000-square-foot mini city where they role play a job for the day. Glenner's CEO and executive director Scott J. Tarde visited the program and started thinking of the potential to do something similar for seniors, and took the idea to the board in 2016.
Douglas Pancake Architects (Irvine, Calif.), which specializes in senior living architecture, provided the initial architectural renderings, while San Diego Opera Scenic Studio (San Diego) will undertake set design, with Marsha Sewell & Associates assisting on the interior design. Developer Village Holdings LLC (San Diego) is funding the $650,000 in tenant improvements to the warehouse space, which will begin this fall, and Glenner will lease the space.
Tyburski says Glenner will close its existing Chula Vista location once Town Square opens and plans to replace its other two locations with immersive environments, before expanding the concept nationally.