2018 EFA Design Showcase: Style And Substance
---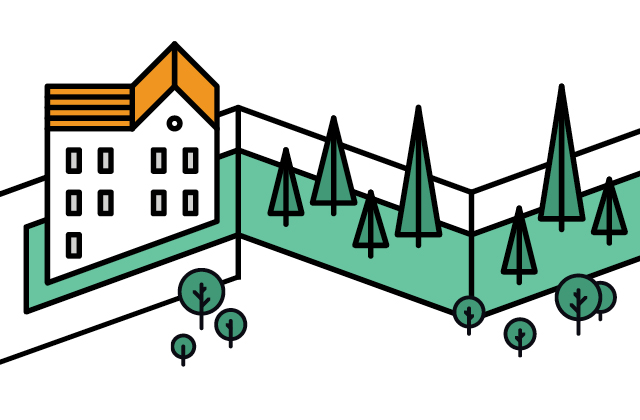 ---
The annual EFA Design Showcase serves as a broad view of the senior living design industry. The projects featured (see page 57 of the Spring 2018 issue) range from small amenity spaces to sprawling continuing care retirement communities, supporting independent living (IL) on up to skilled nursing. But if there's one noticeable marker for what many of them have in common this year, our competition jurors say it's a continued departure from what once defined this space.
"The projects that were submitted and well received by the jurors shared a palette of rich colors and textures, nontraditional architecture, and fun amenities, all while feeling functional, warm, and inviting—places you can see yourself living in," says Mike Harris, president of Cornerstone Senior Living LLC (Augusta, Ga.).
Style defined much of the award winners and finalists, with modern, hospitality-driven aesthetics seen across project types. "They're definitely trying to update and open up spaces to attract younger residents for independent living and appeal to family members for assisted living/memory care. Themes include more dining venues, more light, more openness, and, to some degree, a more contemporary design," says Rick Hunsicker, vice president of sales services for Love & Co. (Fairview, Texas).
From the small details (age-appropriate furniture that's scaled properly, finishes with good visual contrast) to big ones (projects executed well and exhibiting a cohesive team effort), the Showcase jurors shared an inside look at what a review of the 2018 crop of projects tells them about where we are today. Perhaps most important among those observations, though, were obvious efforts to better support residents' lives and facilitate a sense of vibrancy.
The foundation
Operationally, jurors say they saw a concerted effort by owners and operators to embrace household models and resident-centered care, particularly in skilled nursing and memory care settings. "Household model transitions were everywhere, and this is huge. It's not easy to accomplish in existing physical space or in operations, yet both seemed to be the new standard," says BJ Miller, president of The Vision Group (Asheville, N.C.). "It's remarkable how far we've come," adds Maria Lopez, director of design at JSR Associates Inc. (Catonsville, Md.). "I think the submissions tell a much different story than what is typically happening in the field, but it's the story that we want to emulate."
And while those efforts were observed, the jurors also say there's more work to be done. "There were some nice refinements of the household model that came through, but there were still too many traditional designs that indicated a future of institutional living for many older adults who need a care setting. While the jury celebrated those organizations that made a significant commitment to the people they serve by committing real resources toward the development of person-centered environments, we still saw evidence that old habits (and designs) are hard to shake," says Steve Lindsey, CEO of Garden Spot Communities (New Holland, Pa.).
At the heart of this debate is double-loaded corridors and how resident rooms were sited in relation to the common spaces. Although double-loaded corridors present a solution for creating efficiency and maximizing square footage, jurors say that the layout also led to limited light reaching interior spaces and units that could seem more medical than residential.
"It felt like 50 percent of the industry is on board with creating homelike environments by trying to eliminate the homes off of the double-loaded corridor, creating an open plan with clear sight lines for staff and wayfinding for residents. The other 50 percent takes the approach to locate the units away from the common areas in a corridor," says Joseph A. Billig, senior vice president, architecture, at Touchmark Development & Construction (Beaverton, Ore.).
Elsewhere, IL was noted as staying the course with more hospitality-driven models in place, although some projects progressed toward using larger floor plans and raising the bar considerably on amenity spaces. At the same time, more of that high-end service and aesthetics model was seen this year in assisted living (AL), as well. "Assisted living is moving with more conviction toward an independent living hospitality model, in lieu of the neighborhood or small house model. It seemed to be tugged in both directions for several years, and is now tilting," says David Dillard, president of D2 Architecture (Dallas).
A design departure
As lines blur operationally, visual differences between community types were less noticeable, as well, says Dean Maddalena, founder and president of StudioSix5 (Austin, Texas): "Now I think designers and owners understand that design quality has to be consistent through all levels of care."
And although overall style progressed across the projects, the most notable differences were seen in IL and AL, which are skewing further away from traditional design approaches. "These projects look less like senior housing and more like market-rate condos and resorts. Urban infill projects and exteriors with playful forms and geometry and creative use of materials have replaced the woody walk-up with the tell-tale porte cochère that screams senior living. Amenity spaces are sophisticated, reaching for high design—not senior design," Billig says.
In fact, many of the projects illustrated an effort to design without age in mind at all. "The use of vibrant color and great texture, incorporating inspired art, creating connections with nature, using a variety of seating types, etc., was inspiring because it indicates that we can design for people—not just older people," Lindsey says.
To that end, some interiors showcased a bold mix of patterns and colors, finishes, and textures, occasionally even reading as what Maddalena dubbed "glam" that was sometimes successful and other times didn't feel at home in a project's geographic context. Additionally, high-design hospitality elements were more welcomed in common areas.
"Many felt hospitality worked best with shorter-term programs such as rehab and hospice," says Tom Gears, president of SWBR (Rochester, N.Y.). "Hospitality-themed common areas in independent living, assisted living, skilled nursing, and memory care that promoted intergenerational and community engagement seem appropriate. But many felt hospitality responses within the residential zones of communities were at the expense of comfort, familiarity, and warmth."
Coming together
As for those common areas, projects this year showed owners and their design teams dialing up amenities spaces in a major way. There were coffee shops and bistros, fitness centers and game rooms, salons and spas, wine rooms and pubs. But was it too much? The jurors think so.
"This year's entries seemed to be all about more amenity and larger common areas rather than opportunities for more intimate spaces or spaces that can flex and share program elements. There were examples of large bistros filled with tables and chairs across the way from a large pub with almost the same tables and chairs. One can imagine looking across at empty spaces, when they could have been combined to serve coffee during the day and cocktails at night," Billig says.
In addition to possibly detracting from the vitality of a community, jurors also noted that over-building amenity space also translates to too much non-revenue-generating square footage and more expensive projects. "I'm a firm believer that commons areas should be smaller and multifunctional, so there's activity seen and felt all day. I see some of that, but there are still a lot of dedicated rooms for your typical senior living programming. What was refreshing was seeing commons spaces developed for internal and external uses involving the surrounding community," Maddalena says.
In fact, those efforts were visible throughout projects. Communities frequently included spaces such as theaters and event pavilions that could host activities for residents as well as the greater community, from staging theatrical performances to inviting in the local high school band. "What excited me most was the recognition that this can add such a life-giving element to the campus," Lindsey says. "That said, I'm not sure we're quite there in terms of execution. We saw designs that included theaters for the community to use, but they only seated 20 people. We saw others that were sized appropriately but didn't have access to parking."
Tammy Sealer, chief administrative officer at Immanuel (Omaha, Neb.), agrees, further noting that there were few details offered on whether the efforts were successful or planned appropriately. "There were certainly efforts in this area on the architectural and design side. However, very few applications shared how they were actually used. Most projects seemed to employ the philosophy 'If we build it, they will come' versus strategically or operationally building programs and then designing spaces to enhance or grow those programs."
Forward thinking
Several jurors remarked that this year's submissions, overall, exhibited incremental changes—no radical innovation but progress nonetheless. However, there were some misses. "There
wasn't much innovation in unit design," Sealer says. "This is especially true of bathrooms at all levels of care. Additionally, there were very few mentions of technology innovations in apartments or common areas." And while aesthetics were dialed up, Maddalena says he wasn't seeing enough about how those spaces actually work. "The space might be beautiful, but how is it functional for the daily activities of the users?" he says.
Also worth noting, Lopez says, is a project's starting point—for example, a long-term care project that renovated an institutional space into a household model, although with some shortcomings remaining in the end. "That is a tremendous change and very innovative for that community. The innovation is the ability to move from where you are to the best that you can become given your project parameters," she says.
There were some, though, that truly pushed the needle forward. The Rooster Woodshop, an Award of Merit winner submitted by RLPS Architects and RLPS Interiors, delivered a unique and next-level hobby space for the woodworking residents of Masonic Village in Elizabethtown, Pa. Another was Village Point Commons, a finalist submitted by AG Architecture, which delivered what jurors saw as a sort of co-housing experiment. The project offers IL residents a "casetta" option: a four-cottage home with a connected shared communal area in the center, where residents can gather collectively or use the space for private events.
Additional concepts applauded by jurors include the overall interiors, especially the agelessness presented across care levels, as well as elements of sustainable, biophilic, and wellness-oriented design and design solutions that were truly of the greater community—both aesthetically and programmatically. "These were all evidence of real innovations that will continue to keep us moving forward," Lindsey says.
Jennifer Kovacs Silvis is editor-in-chief of Environments for Aging. She can be reached at jennifer.silvis@emeraldexpo.com.