Higher Calling: Meeting The Demand For Multistory Senior Housing
---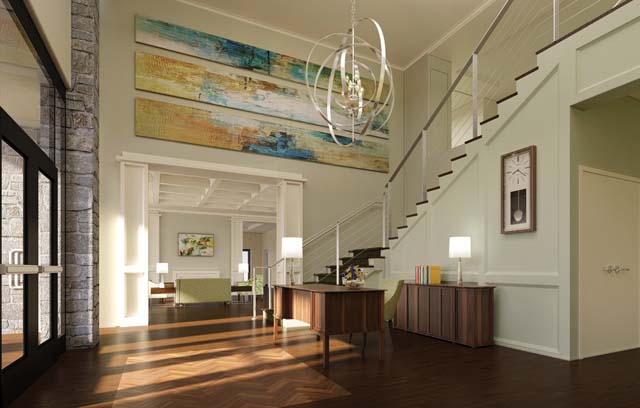 ABSketches, courtesy of Sunrise Senior Living
Designers cut into the concrete slab between the first and second floors and inserted a grand stair at Sunrise of Chevy Chase. "It brings light, motion, and activity between the two floors and also makes for a dramatic architectural statement," says Andy Coelho of Sunrise Senior Living.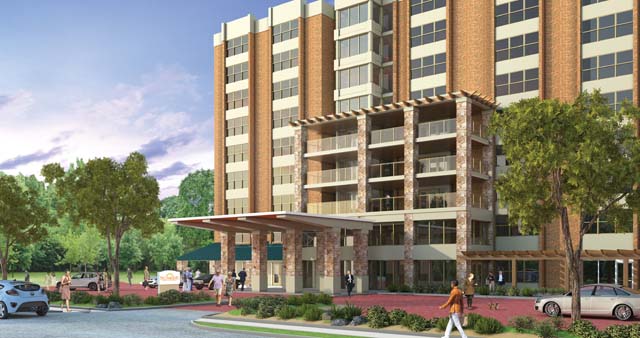 ABSketches, courtesy of Sunrise Senior Living
Outdoor balconies were added to the memory care floors at Sunrise of Chevy Chase, giving residents a safe, secure area to access fresh air.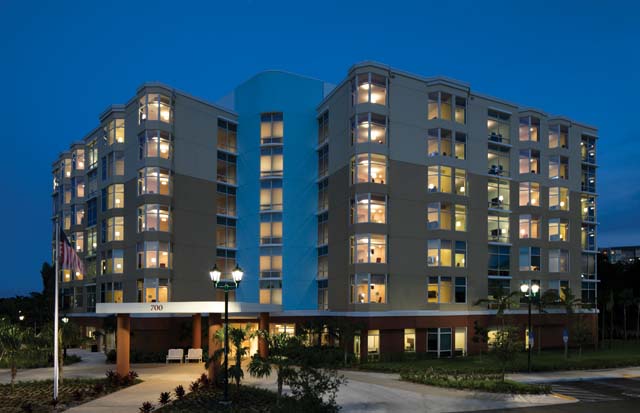 ©2016 CJ Walker Photography Inc.
The seven-story The Woodlands at John Knox Village in Pompano Beach, Fla., represents a departure for the community, as the first high-rise building on its campus.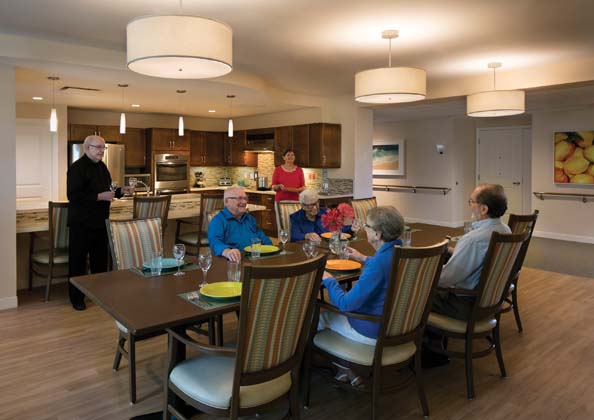 ©2016 CJ Walker Photography Inc.
The Woodlands uses a Green House model, with residences on the building's six upper floors and shared common spaces on the first floor that are open to the entire CCRC.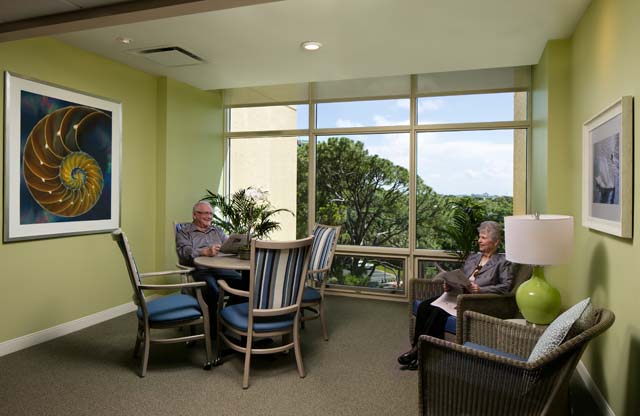 ©2016 CJ Walker Photography Inc.
Visual access to the outdoors and natural light were a driving concept of the The Woodlands design. Sun rooms enhance access to light and views within the core of the home. ©2016 CJ Walker Photography Inc.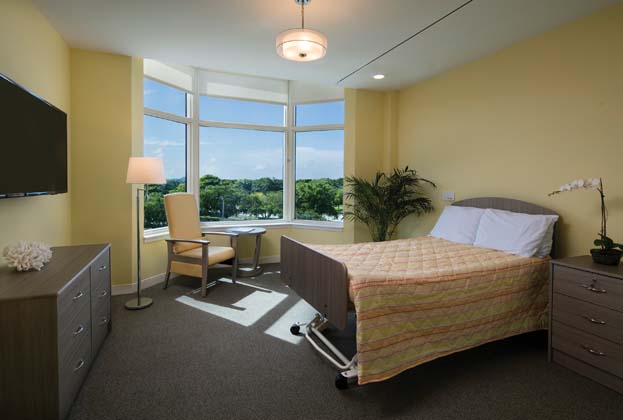 ©2016 CJ Walker Photography Inc.
Resident rooms at The Woodlands feature large windows with views, as well. ©2016 CJ Walker Photography Inc.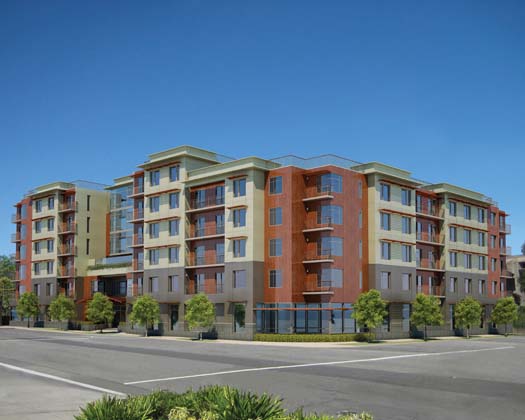 SmithGroupJJR
The contemporary residential look of The Trousdale is achieved through a mix of stucco and wood veneer paneling on the exterior.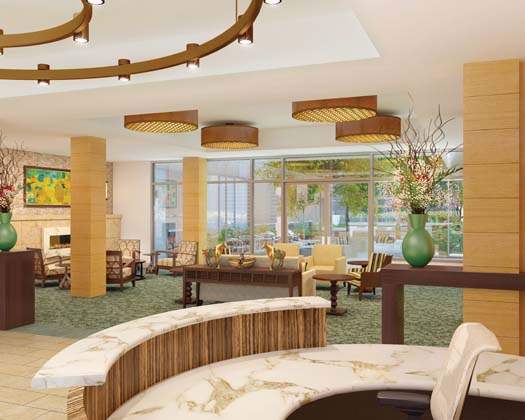 SmithGroupJJR
The ground floor common spaces at The Trousdale are designed to be transparent so the community can see through to the internal courtyard.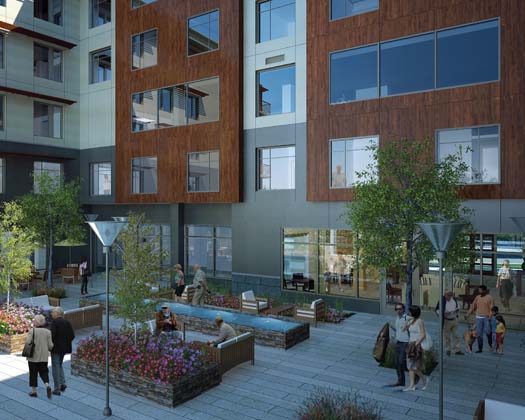 SmithGroupJJR
Balconies, a large courtyard, and a terrace give residents a connection to the outdoors at The Trousdale. The courtyard (shown) includes dining spaces, a barbecue area, outdoor fitness opportunities, and a water feature.

---
When leaders of John Knox Village decided to add 144 skilled nursing units to the campus in Pompano Beach, Fla., they directed RDG Planning & Design (Omaha, Neb.) to build two three-story Green House buildings. But as the team progressed into master planning, the firm realized it wasn't the right solution.
"They were taking up a lot of space," says Scott Pfeifer, principal at RDG. The proposed building site toward the back of the 65-acre campus also would have constrained future growth. Several other options were then considered, including a seven-story building near a wooded site in a more central location.
While going with a high-rise would be a first for John Knox Village, it solved the housing need and provided first-floor amenity space that would serve the entire continuing care retirement community. In the end, the multistory design was selected, and The Woodlands at John Knox Village opened in May 2016.
The project represents a shift in thinking not just for that community but for the industry at large. In the past, multistory housing was rarely considered, as owners and operators often assumed seniors wouldn't feel comfortable in that environment.
"They were making assumptions without necessarily asking the residents," says Mitch Elliott, senior partner at RDG. But, today, faced with land constraints, the need for higher-density developments, and rising real estate costs, the industry is starting to look up—seven, 10, and even 12 stories high.
The other driver is growing interest in creating walkable campuses and tying senior living environments into the greater community, Elliott adds. Greenfield projects have traditionally been tucked away on rural or suburban sites often only accessible by car, while urban, vertical developments offer the opportunity to place senior living communities right in the heart of a city or town, with easy access to local services and attractions.
Sunrise Senior Living, whose mainstay is its sprawling, low-rise mansion format in typical suburban settings, has been adding more high-rise communities to its mix for that very purpose. The nine-story Sunrise of Bethesda and the nine-story Sunrise of Chevy Chase both opened this spring with a mix of assisted living (AL) and memory care services. Andy Coelho, senior vice president of facilities, design, and construction at Sunrise Senior Living (McLean, Va.), says both projects were former senior apartment buildings that Sunrise acquired and renovated from top to bottom.
"We want to build communities where the families are," he says. "There aren't a lot of available 5-acre parcels in the denser areas, like Bethesda and Chevy Chase, so you must go for smaller parcels of land and go up."
A high-level view
Experts say they're largely seeing demand grow for multistory projects in independent living (IL), AL, and memory care. Some are using the model for skilled nursing, though, such as The Woodlands' Green House model, with two skilled nursing homes per floor and about 12 residents each.
Most multistory buildings are laid out with amenities and common spaces on the first and sometimes second floors, such as a living room, parlor, TV lounge, library, café, coffee shop, dining rooms, fitness centers, health/wellness services, a spa, and community activity space.
Resident rooms are located on the upper levels, with most AL and IL floors featuring private rooms with bathrooms (some may include shared or companion rooms), a small lounge or sitting area, and a few resident services, such as laundry or a spa, with residents traveling to the amenity floors for most activities and meals. Memory care floors, on the other hand, are generally designed as secured units with dining, kitchen, lounge, and activity spaces on each level.
Operationally, high-rise buildings typically have a main kitchen located on the first floor, where food is prepared and then served in the main dining room or transported to the memory care floors, which usually have prep kitchens and pantries to serve residents.
Providing access to the outdoors is another important consideration, with most multistory communities adding outdoor courtyards or terraces on the ground floor, and some even offering rooftop gardens or dining. For memory care units, communities may offer screened-in porches or balconies on those floors.
Because high-rise communities are usually located in more urban settings, project teams are opting for more modern aesthetics to appeal to the resident demographic (and their family members) likely attracted to the setting. For its new Bethesda and Chevy Chase communities, Sunrise traded in traditional carpeting for wood flooring on the main floors, and chose geometric patterns and contemporary colors instead of the greens, golds, and floral designs that are used at its suburban communities.
"We're trying to move the aesthetic along both in lighting and finishes to be a more modern take," Coelho says.
Unique challenges
While there are common elements, such as parking, layout, mechanical equipment, transportation of supplies, and staffing efficiencies, to address on every senior living project, these issues can take on an added level of complexity when building up. "Multistory communities tend to be costlier than low-rise because of the structure type and requirements for fire and life safety, so you want things to stack to keep costs down wherever possible," says Alexis Denton, principal at SmithGroupJJR (San Francisco).
Because most multistory buildings include underground parking, that garage often serves as the base for a building and drives the structural grid from there, including column and elevator shaft placement and unit size, which can reduce flexibility and the ability to customize floor plates.
Pfeifer says the overall goal is to have columns align up the building (some can be offset, but this drives up costs dramatically, he adds). Plumbing pipes, garbage chutes, and other vertical chases are also more economical when they travel up and down the building in a straight line, which can impact bathroom and kitchen placements from floor to floor.
It can also be tricky to align residential units in multistory buildings, especially those with more than one housing type. For example, Denton says AL units are often narrower than IL, while memory care units are the same width as AL but often not as deep. "In a vertical setting, all these typically stack, so it's a game of Tetris, adjusting the unit sizes so you remain efficient while still having large enough units that work for all resident functions," she says.
Additionally, if a community uses standard unit sizes in horizontal settings, it's likely that those units won't stack properly in multistory, meaning project teams must remain open to new ideas. For The Trousdale, an AL and memory care community under construction in Burlingame, Calif., Denton says the operator, Eskaton (Carmichael, Calif.), agreed to build the memory care units as full-size apartments, so they stack with AL in the six-story building.
"Because the resident unit is the key building block, the designer must be creative in the unit design and the operator has to be open to trying different kinds of unit types for each function," she says.
Another challenge in multistory is the movement of residents, food, and supplies to the upper floors. While in horizontal settings, designers often create onstage/offstage zones to separate residents and families from back-of-house tasks like food, laundry, and trash deliveries, it's a different story with multiple floors. Designers must assess how many elevators can be accommodated for those tasks, with each one adding costs and structural challenges. And although designers agree that it's ideal to have a separate service elevator for moving supplies, it's not always possible for smaller facilities.
For example, Elliott says The Woodlands project, with only 24 residents per floor, didn't justify a designated staff elevator, so designers instead added a trash chute in the building and staff and residents share the same elevators. The Trousdale project, which will house 125 total units when it opens this year, will feature both a separate service elevator, to transport larger items and resident furniture during move in/out, and a dumbwaiter, which will go from the main kitchen to a space adjacent to the household kitchen on the memory care floors.
The smaller floor plates on multistory buildings can also dictate staffing models, with some employees assigned to cover two floors. "It's a push-pull of the right size floor plate for the site versus the right size floor plate that works for staffing," Denton says.
Regulations and building codes can present their own set of challenges, too. For example, Elliott says there's a tendency for regulators to extend the code requirements of AL and skilled nursing into the mixed-use areas of a multistory building when there's a possibility that those residents may access that space. Moving forward, Elliott says the industry needs a clear demarcation between a regulated environment and an environment that's occasionally used by skilled nursing residents.
Addressing these different challenges in a multistory environment can also mean assembling a project team that looks different from those for other senior living projects, with additional consultants for elevators, structural engineering, and fire/safety.
Also, codes dictate different building materials, such as steel or concrete, for multistory construction, instead of the wood materials that are acceptable on lower buildings. This might require firms to draw in additional staff with experience in these areas. "It's all about finding the right people," Denton says.
Eyes on the future
Designers agree the multistory trend is here to stay, as more prospective residents seek mixed-use settings where they can have easy access to amenities, healthcare, and other services. "As the boomers age into needing senior living, I think they will tend to want to live in very active environments, i.e., urban settings, that feel cool," Denton says.
As project teams undertake more of these projects, they're doing so with an eye on possible future expansions or changing service demands by using modular components and flexible floor plans. During planning of The Trousdale, Denton says studio and one-bedroom units were designed that could be combined to create two-bedroom units, depending on future need, while each floor is able to flex between AL and memory care by converting common space to resident rooms or vice versa. "What will be interesting to see is how much this actually changes or if they build it in and never use it," she says.
Elliott says it's also important to keep a sense of home in these larger, vertical environments, by focusing on scale and giving residents the ability to personalize certain areas. For example, he says, communities should focus on offering multiple, smaller dining environments that feel more homelike than one setting that serves 50-plus people. In resident rooms, he says, modular solutions can save on costs, but designers should also make sure residents have the ability to move furniture and personalize décor.
"There are key elements of home, so going vertical we need to make sure that we continue to tap into that home setting," he says.
Anne DiNardo is executive editor of Environments for Aging. She can be reached at anne.dinardo@emeraldexpo.com.
Sidebar: Beyond the hedge
As more multistory buildings dot the landscape, they're being built with an eye on intergenerational activities, outreach programs, and amenities that are open to the public, blurring the line between senior living communities and the greater community.
"Five or 10 years ago, the focus was integrating amongst their community," says Scott Pfeifer, principal at RDG Planning & Design. "But now they're going out into the larger community a lot more, beyond the hedge, and it makes sense."
At The Woodlands, for example, John Knox Village hosts symphony concerts and art programs that are open to the public, and its restaurant draws people from across campus as well as nearby residents. The Main Street Café restaurant at Buckner Retirement Services' Baptist Memorial Living Center in San Angelo, Texas, has reviews on Yelp posted by non-residents who've dined there, notes Mitch Elliott, senior partner at RDG. "That just reinforces that they're engaging with the community at large," he says.
Alexis Denton, principal at SmithGroupJJR, says efforts like these can be a great marketing tool as well as a catalyst for change. "A lot of people just don't know much about senior living and aren't aware of how great these communities can be, because they've historically been isolated," she says.
"Multistory communities in mixed-use urban settings can be ambassadors for senior living, but they have to find a way to be less insular," she says.