New Senior Living Design Report Highlights Four Trends
---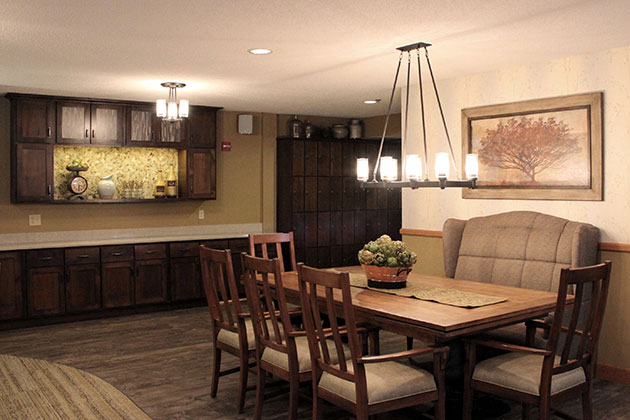 A solid example of the "defining home" design trend can be found at Farmstead's Senior Living Community in Andover, Minn., which expands on Andover's rich farming community history. The interpretation of farmland is visible in the material patterns: rustic barn wood ceramic tile, wheat grass design in the cabinetry's resin glass and natural stone pebble accent wall tile. The rustic farmhouse candle-style chandeliers and farmhouse style table provide a homey gathering area.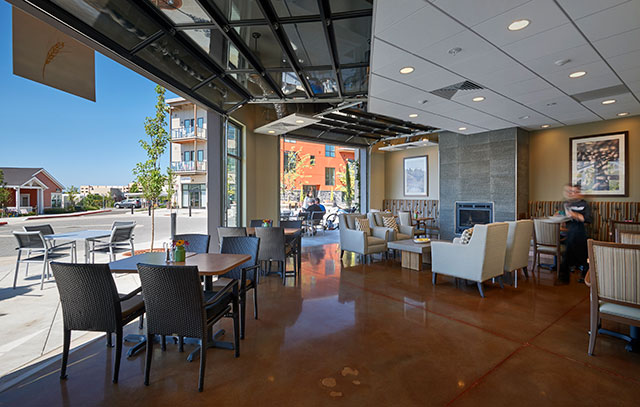 Nathan Cox
The Harvest Grill at Rose Villa in Portland, Ore., exemplifies the "connection to community" trend. This fast-casual restaurant features roll-up garage doors that open onto the main street and connect the outdoors to the built environment. Myhre Group Architects designed the space.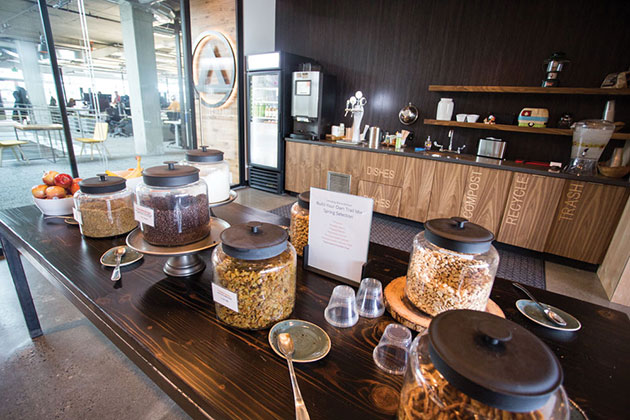 As a way to offer "support for staff," some owners/operators are following the Google model, by providing staff with full kitchens and free food, like this "build your own trail mix bar," which helps employees feel supported and comfortable in their work environment.

---
For the past three years, senior living design experts have gathered to identify and track emerging senior living trends, in a symposium spearheaded by J+J Flooring.
During the 2017 Senior Living Design Symposium, held in Aspen, Colo., 13 professionals, in partnership with healthcare thought expert Sara Marberry, identified four major trends that are influencing the design of today's senior living residences and communities. They include:
• Defining home: There is an increasing emphasis on creating places that are less institutional, and efforts to define what home means to different senior populations and translate that to design are taking it to a new level. Each individual has a different meaning of home, driven by regional considerations, socio-economic status and personality. For most people, however, possessions make a space feel like home and create an emotional connection. But how to integrate those possessions into a more compact senior living residence is always challenging. Senior living communities must continually adapt to a changing design aesthetic.
• Connection to community: One of the most common complaints of people in senior living communities is isolation—from each other, from their extended families and from the community at large. Breaking down the isolation barrier is one of the biggest challenges for senior living owners and operators. Emerging models include repurposing older properties that are more centrally located within communities, where senior living is just one component of the greater campus. Within the senior living communities themselves, design is being used in common spaces to encourage interaction, support relationships, promote involvement in daily activities and foster opportunities for multi-generational interaction. Programming is shifting from "What can we offer to seniors?" to "What do seniors want to do?".
• Support for staff: Because they are also part of a senior living community the staff must feel supported and comfortable in their work environment. If owners/operators take good care of their employees, those employees will take good care of the residents. Progressive owners/operators are looking at the Google model of staff break rooms, providing lounge seating, ping pong tables, full kitchens with free food, and sleep rooms. Some are even designating a captain's table in the main kitchen, where the staff eats together prior to serving residents.  Access to the outdoors and connection to nature is also important for staff.
• Details matter: No matter the project's size, scope or budget, paying attention to design details will make it feel like home, foster community and support staff. Resident directed/person-centered care, which honors residents' dignity and choices, speaks to this as well and can be reinforced by design. Design details also matter to seniors and their adult children who are looking for a senior living residence or community—particularly at the mid- to high price range.
This year's participating professionals included: Matthew Becker, Perkins Eastman; Reid Bonner, Civitas Senior Living; Hillary DeGroff, Perkins Eastman; Katie Denton, ID Collaborative; Bethany Harris, RJT+R; Kelley Hoffman, Spellman Brady; Faith Marabella, WDS Interiors; Judy Newcombe, Newcombe Design Associates; Jennifer Owens, Owens Design; Stacy Peters, Faulkner Design Group; Heidi Wang, Worn Jerabek Wiltse Architects; and Lisa Warnock, Myhre Group Associates. The group was also joined by guest speaker, Steve Moran, a former senior housing facilities professional who now manages Senior Housing Forum, a communications website for developers and operators of senior living communities.