Summer Online Focus: Amenity And Activity Spaces
---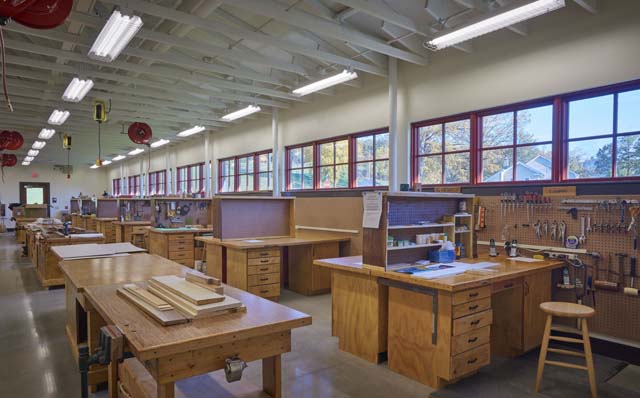 Nathan Cox Photography
The Rooster Woodshop at Masonic Village in Elizabethtown, Pa., delivers the ultimate activity space to residents, winning it an Award of Merit in EFA's 2018 Design Showcase. Click on the link below to read more about the project.
---
Environments for Aging is introducing a new monthly Online Focus feature that compiles recent coverage on targeted topics to help readers quickly get up to speed on pressing issues or refresh themselves on latest trends. For summer, we focus on design solutions for amenity and activity spaces.
No project is complete without areas that bring vibrancy and fellowship to residents, spaces that draw them out of their rooms, suites, and units and into a true community. However, there are a number of ways this can be done. Some teams opt for multipurpose rooms that can flex from a café in the morning to a reading room during the day to a pub at night, while others will program all of those uses into separate rooms.
The right solution depends on the community, its residents and staff, and resources available. But whatever is delivered must be designed for comfort, durability, and safety—all while being a place residents seek out and enjoy. Amenity spaces prove to be invaluable in differentiating communities in their local markets and can be key considerations when families choose where loved ones will live.
Click on the links below to explore some of the designs being introduced at various community types and inspiration for how you may apply some of them to your next project.
2018 EFA Design Showcase: Style And Substance
The EFA Design Showcase jurors share what they saw in this year's submissions, including households gaining ground, ageless interiors, and lots of community engagement.
2018 EFA Design Showcase: Making The Cut
The Rooster Woodshop impresses jury members with a design that delivers the ultimate woodworking studio for residents.
PHOTO TOUR: The Medical Resort at Willowbrook
The skilled nursing facility in Houston, with a design inspired by Mediterranean architecture, provides care for short-term rehabilitation residents.
EFA Expo Preview: Q+A With Ryan Frederick
The founder and CEO of Smart Living 360 will deliver his keynote on Monday, April 23, where he'll talk about addressing old assumptions about senior living, the drivers behind the changing landscape, and the opportunities—and challenges—that come with making multigenerational housing a reality.
PHOTO TOUR: The Georgian Lakeside
The Georgian Lakeside in Roswell, Ga., maximizes lake views from its public areas while offering activities designed to enhance the sense of community and foster resident engagement.
Quite A Ride: 3 Trends Driving Change In Senior Living
The rise of active adult communities, escalating construction costs, and demand for wellness amenities are leading to new design solutions for senior living projects.
PHOTO TOUR: Village Pointe Commons
The Grafton, Wis., senior living community combines multiple housing options, including its cottage-home Casetta neighborhood, with a host of indoor and outdoor amenities.
FIRST LOOK: Villaggio At San Luis Obispo
Villaggio at San Luis Obispo will feature 366 independent living residences offering villas, garden terraces, Piazza apartments and village suites, as well as a resident-centered health center providing assisted living, memory support and skilled nursing.
PHOTO TOUR: Maplewood At Brewster
Maplewood at Brewster in Brewster, Mass., a two-story assisted living and memory care community which opened in 2016, is constructed to complement the surrounding architecture of Cape Cod, Mass.