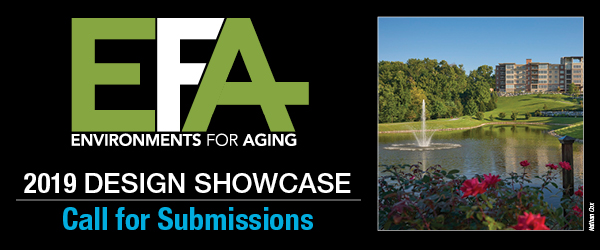 Now accepting reservations for the 2019 Environments for Aging Design Showcase!
Published each year in the Spring issue of Environments for Aging, the EFA Design Showcase offers a compilation of architecture and interior design projects representing outstanding innovative design solutions in new or renovated senior care environments across the nation.
A jury appointed by The Society for the Advancement of Gerontological Environments (SAGE), The Center for Health Design, the International Interior Design Association, and the American Society of Interior Designers will review submissions to the 23rd annual EFA Design Showcase. Award winners will be recognized at the 2019 EFA Expo & Conference in Salt Lake City, Utah.
Award winners will receive special recognition in the Spring 2019 issue of EFA, in Design Showcase announcements, and at our annual Environments for Aging Expo & Conference.
Finalists (projects deemed highly noteworthy) will also be recognized in the Spring 2019 issue of EFA and in Design Showcase announcements.
All participants with published projects will receive 25 complimentary copies of the magazine.
Reservations Due: November 9, 2018
Presentations Due: November 30, 2018
To download the 2019 brochure with details, rates and deadlines: click here
To complete your reservation form NOW, click here
All accepted projects will be published in the April 2019 issue of Environments for Aging. We do not allow cancellations following receipt of your submission.
To view the 2018 EFA Design Showcase edition, click here
For more information on the annual Design Showcase, or other options for project promotion, please contact:
Donna Paglia
Environments for Aging
P: 216-373-1210
E: donna.paglia@emeraldexpo.com