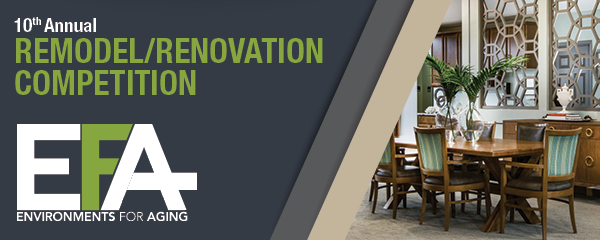 Environments for Aging is pleased to announce our 10th annual Remodel/Renovation Competition!
Submissions will focus on single spaces, including dining spaces, lounges/activity areas, lobbies, and other resident spaces.
A panel of experts, appointed by SAGE (The Society for the Advancement of Gerontological Environments) will review all submissions and determine our Top 3 Finalists. One will be named "Best in Competition" and receive special recognition at our annual Environments for Aging Expo & Conference (Spring 2019). All three will receive bonus editorial coverage of their projects in the Fall 2018 issue of Environments for Aging. In addition, all participating firms will be included in a Remodel/Renovation Gallery, also appearing in the Fall 2018 issue, with a Quarter Page feature* of their project, allowing readers an opportunity to view all of the project entries.
*includes before/after image; facility name, 50 words of text, and firm contact information.
Entry Fee with Quarter Page feature: $595
Reservations due: May 11; Presentations due June 1
Click here to reserve your spot in this year's competition!
For more information, contact Donna Paglia
donna.paglia@emeraldexpo.com
210.419.9017