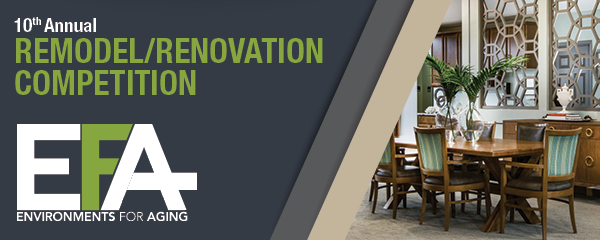 Environments for Aging is pleased to announce the winners of our 10th annual Remodel/Renovation Competition!
This year, we received 38 submissions under our Single Space category. Eighteen jurors reviewed, scored, and commented on projects—narrowing projects down to a group of finalists. Jurors then had the task of identifying our top 3 (Gold, Silver and Bronze) winners. These jurors included architects, interior designers, consultants, and providers – all in the senior living industry, and all appointed by our partner organization, SAGE (The Society for the Advancement of Gerontological Environments).
Here are the final results:
Gold Winner: Waverly Heights, Gladwyne, Pa. (Dining and Coffee Shop Renovations)
Submitted by: RLPS Architects & RLPS Interiors
Silver Winner: St. Ignatius Nursing and Rehabilitation Center, Philadelphia (Resident Rooms)
Submitted by: Lenhardt Rodgers Architecture + Interiors
Bronze Winner: Atria Center City, Philadelphia (Life Guidance Dining/Activity Area)
Submitted by: Meyer
The Gold winner will receive special recognition at our annual Environments for Aging Expo & Conference (Spring 2019). All three will receive bonus coverage of their projects in the Fall 2018 issue of Environments for Aging. In addition, all participating firms will be included in a Remodel/Renovation Gallery, also appearing in the Fall 2018 issue, with a Quarter Page feature of their project, allowing readers an opportunity to view all of the project entries.
For more information about this program, contact Donna Paglia
donna.paglia@emeraldexpo.com
210.419.9017