PHOTO TOUR: Village Pointe Commons
---
Landre Photography
Modern meets rustic to create an inviting setting in the Lime Kiln Café where a large farmhouse table encourages socialization.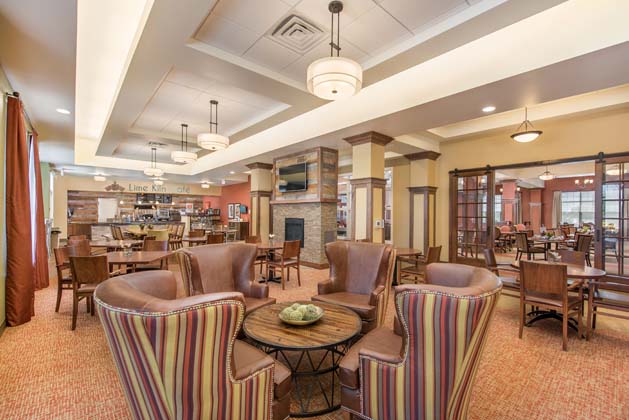 Landre Photography
A first impression of activity and focus on resident engagement is presented in the entry lounge with a variety of seating options and clear views from one space to the next.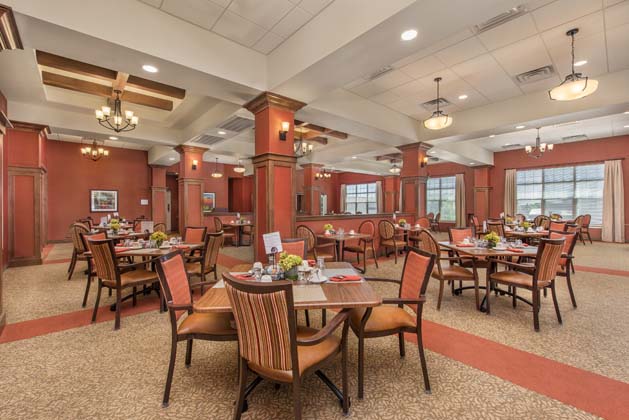 Landre Photography
The commons area offers a variety of dining venues, including a restaurant-style dining room.
Landre Photography
Craftsman style details and a nature-inspired palette provide a welcoming first impression in the commons lobby.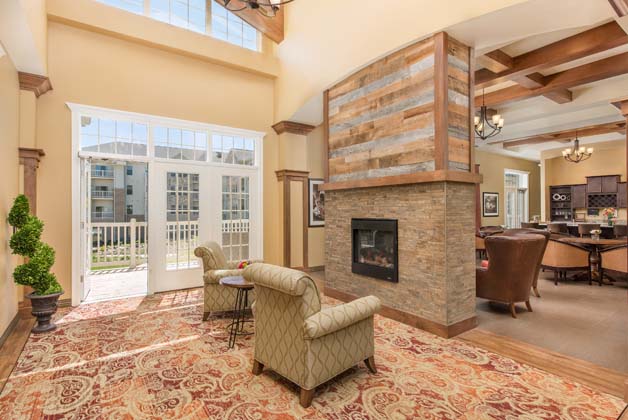 Landre Photography
A dual-sided fireplace provides a comfortable spot to rest or wait for friends in the lobby. Residents can easily access the dining room, pub, or sundeck from this lounge area.
Landre Photography
The multipurpose room provides a flexible space for numerous community activities, such as chapel services, card games, and guest speakers as well as staff meetings.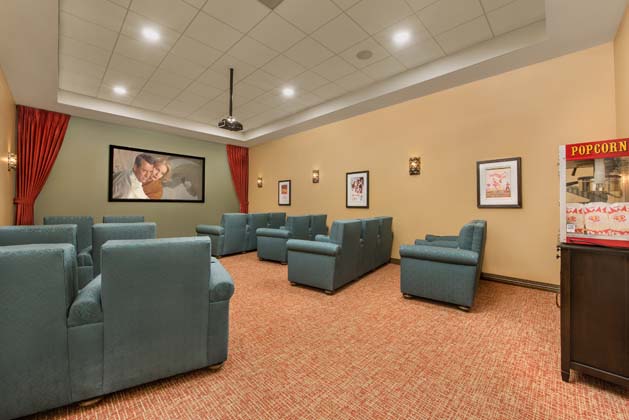 Landre Photography
A movie theater is just one of the many activities that engage residents.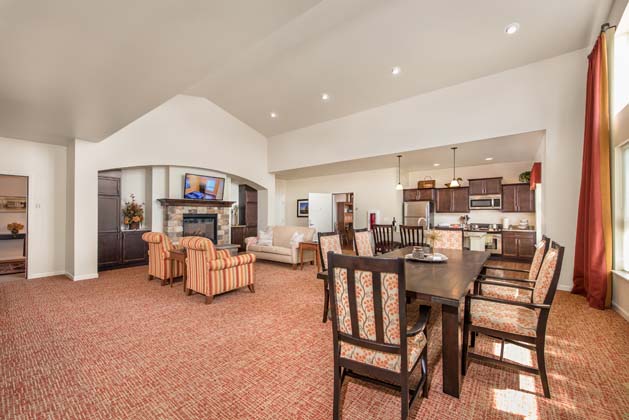 Landre Photography
The communal room in the Casetta was designed to resemble a great room to provide residents with extra space to entertain when needed as well as the opportunity to socialize with their neighbors. The area connects directly to the individual units via individual doors.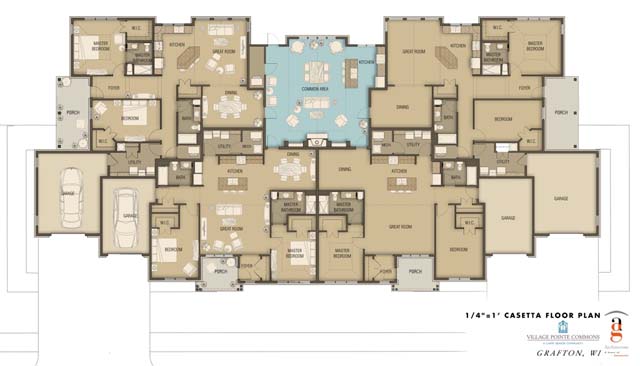 AG Architecture
Each 8,514-sq.ft. Casetta offers four, two-bedroom, two-bathroom units with living spaces, garages and private entrances connected to a shared communal area.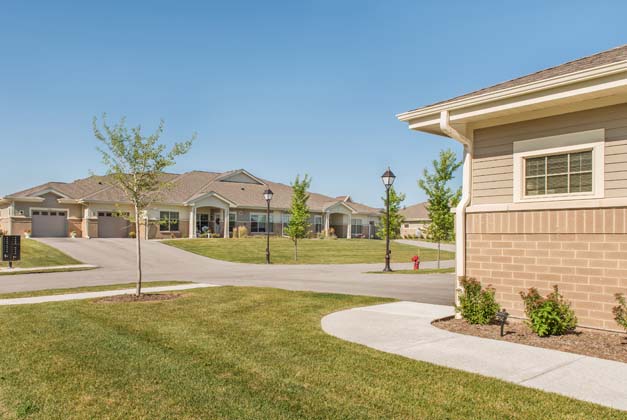 Landre Photography
The Casettas offer a private neighborhood appeal within the Village Pointe Commons community.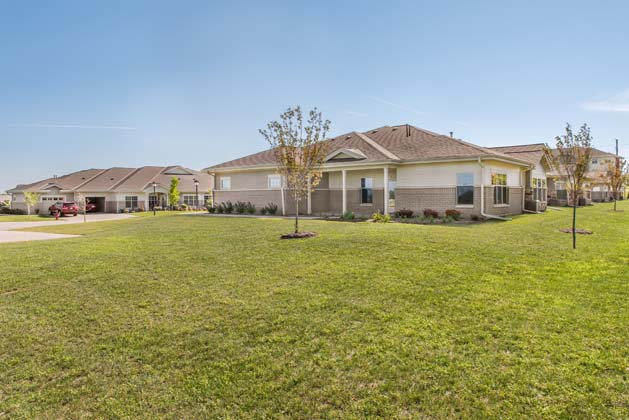 Landre Photography
Casetta residents enjoy access to ample green space.
---
Situated on the highest elevation in Grafton, a northern suburb of Milwaukee, Village Pointe Commons opened in March 2017. The new community combines the comforts of home with new-to-the-market amenities, resulting in a sense of community and a distinct senior living experience focused on health, happiness, and an enhanced quality of life.
The project team included developer Capri Senior Communities (Waukesha, Wis.), architectural firm AG Architecture (Wauwatosa, Wis.), and interior design firms PDC Midwest (Hartland, Wis.) and 4 Design, LLC (Germantown, Wis.). The 292,138-square-foot main building includes The Pinnacle, with 122 one- and two-bedroom independent living apartments; The Pararmounte, featuring 65 one- and two-bedroom assisted living apartments; and The Creste, a 26-bed state-of-the art memory care community.
The campus interiors offer an architectural nod to the Craftsman style with a hints of a modern, rustic design. The palette incorporates colors found in nature with a focus on warm earth tones. Artwork reflects the Grafton area as well as Wisconsin, strengthening a sense of community and providing familiarity with residents.
The architectural team took advantage of the grade change on the site to deliver an array of indoor and outdoor amenities in the community's common area, including full-service restaurant-style dining, a casual setting café, a pub with liquor lockers, movie theater, and a wellness center with lap pool, clinic, and fitness gym.
Outdoor amenities include a large sundeck, landscaped courtyard, putting green, bocce court, fenced dog run, walking paths, and stonework water feature. These amenity spaces are further enhanced through programming with the local senior center and services through local healthcare organizations and other businesses. The aquatic center is the first private pool in the Grafton area to offer outside engagement to the community at large.
Village Pointe Commons also offers an alternative to independent living apartments with The Casettas, a cottage-style neighborhood comprising four, ranch-style homes. Each 8,514-aquare-foot Casetta offers four two-bedroom, two-bathroom units with living spaces, garages, and private entrances. The four units connect to a shared communal area at the center of the Casetta, a co-housing experience that supports socialization between the household neighbors as well as extra space for entertaining family and friends.
AG Architecture worked with Capri to realize this vision and carefully designed the units, organizing spaces in a way that positions the dining and kitchen areas of each unit adjacent to the central communal area. The shared common area maintains a very home-like appearance, including a fireplace, kitchenette, living room and dining room. This allows residents to maintain privacy in the living and sleeping areas while extending their individual socialization areas into the larger gathering space.
The small homes feature high-end finishes, such as granite countertops and wood-like flooring in the living and dining areas, while residents can also choose to upgrade some of the features to personalize their space, including different granite colors, a painted accent wall in the living room, and hardwood flooring.
The Casettas are like a private neighborhood within the Village Pointe Commons community. Access to the commons area at the main complex of the community provides even more socialization opportunities that they can take advantage of – the best of both worlds.
Project Summary:
Completion date: March 2017
Owner: Capri Senior Communities
Total building area: The main building is 292,138 sq. ft. (including parking); Each Casetta is 8,514 sq. ft.
Total construction cost: $34 million
Cost/sq. ft.: $106/sf
Architecture: AG Architecture
Interior design: PDC Midwest, 4 Design, LLC
Engineering: Pierce Engineering
Construction: Catalyst Construction
Art/pictures: Wendover Art Group
AV equipment/electronics/software: It's Never Too Late (iN2L)
Carpet/flooring: J+J Flooring Group (carpet), Tajima (vinyl plank), Great Lakes Distribution, (tile distributor), Transceramica (tile distributor), Johnsonite (vinyl wall base)
Fabric/textiles: Arc-Com, Burch Fabrics, Kravet Contract, Robert Allen Contract, Douglass
Furniture—seating/casegoods: Flexsteel Contract, Maxwell Thomas for Direct Supply, Holsag
Lighting: Designers Fountain, Progress Lighting, Seagull Lighting, Kichler Lighting
Surfaces—solid/other: Milwaukee Marble and Granite (fabricator and granite supplier), Cambria (quartz), Nevamar (plastic laminate), Formica (plastic laminate)
Wallcoverings: DL Couch (vinyl wallcovering), MDC Wall (vinyl wallcovering), Sherwin Williams (paint)
Cabinetry: Smart Cabinets
Procurement Consultant: Independent Marketing Associates, LLC