Designing For "Senior Loving"
---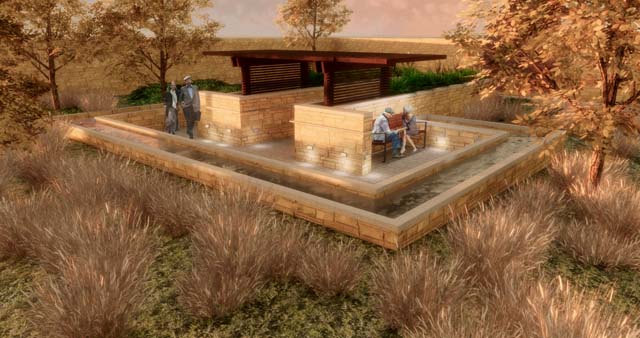 OZ Architecture
It's easy to create private spaces in outdoor settings. Water fountains, hedge mazes, strategic landscaping, and other design features can both foster activity and provide spaces for residents to spend private, meaningful time together.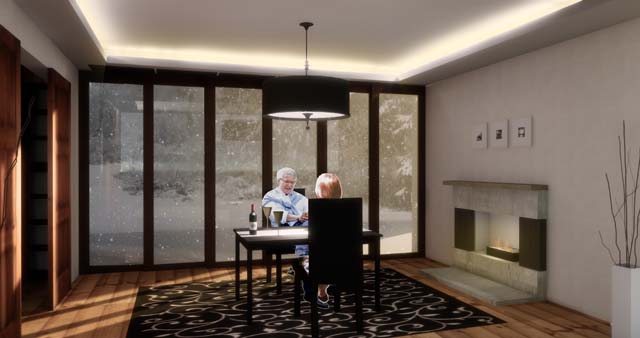 OZ Architecture
Senior living communities often include private dining rooms that accommodate larger groups, but creating even one smaller space with seating for two or four can give couples some privacy outside of their residence.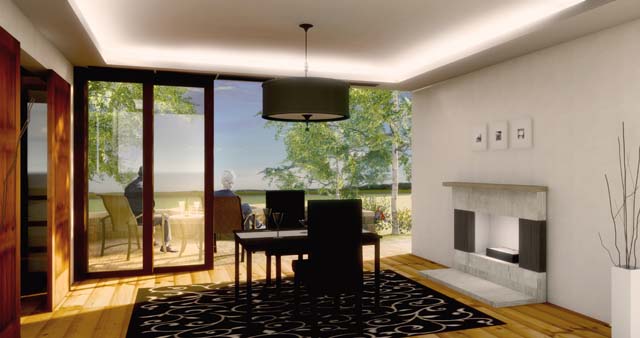 OZ Architecture
Designing private dining spaces doesn't necessarily require a lot of room. A patio or outdoor space just off a main dining room can help enhance opportunities for privacy and intimacy. Landscaping, gazebos, and screened-in seating can all create privacy without requiring a lot of additional budget or space.
OZ Architecture
Creative design elements can help recreate date night and evoke fond memories. In this example, a partial car chassis complete with dashboard and hood includes theater chairs or wheelchairs in place of the seats to provide the experience of taking a date to a drive-in movie.
---
As we come of age, many of us seek to establish romantic relationships, perhaps to eventually get married and build a life as a couple. Even as we grow older and relocate to smaller apartments and age-restricted communities, that innate desire for meaningful companionship doesn't necessarily dwindle. In fact, it's not uncommon for elders to find renewed love interests and romantic partners later in life. Yet, traditional senior housing design elements don't always accommodate a desire for privacy and intimacy.
Many spaces in senior care communities are designed to bring everyone together and promote socialization. By designing intentional indoor and outdoor elements that promote smaller group or private connections, architects can help create opportunities for residents to meet, talk, and connect.
Spaces to meet and mingle
Senior living environments must often meet strict standards of providing accessibility and safety, and the effect of this can sometimes be cold and isolating. However, there are opportunities to design elements within these spaces to encourage chance meetings, conversation, and socializing outside of set programming.
For example, designing corridors with alcoves and benches along the wall can offer touch-down points for resting or mobility assistance. These same spaces can offer a chance to have a quiet discussion out of one's residence or to sit beside a stranger and start up a conversation. Additional resting spaces can be created with a limited view to the corridor to create a greater sense of privacy.
Recreating the date night
Designing opportunities for date nights within the residential environment can create meaningful and memorable interactions—especially when they recreate fond moments from the past. As architects, we can visualize design concepts inspired by a night at the movies. Theater rooms should be designed with a seating structure to accommodate wheelchairs and walkers and audio and visual components to help the impaired.
Taking this a step further, creative theater room design elements, such as a partial car chassis complete with dashboard and hood with chairs or wheelchairs in place of the seats, might recreate the memory of taking a date to a drive-in movie.
In some communities, residents have the option to drive golf carts around their campus. Designing strategic places to park a golf cart—for example, overlooking a beautiful view or in a semi-private hideaway—can create the feeling of a carefree, youthful date-night experience.
Additionally, designing compact spaces for small groups or couples to interact during cooking classes, game nights, or other community programs can bring back the feeling of cooking together or playing bridge with friends and partners. These types of spaces can be designed to mimic a comfortable home kitchen or a game room, offering authentic experiences apart from more public areas.
Dinner for two
Dining together is a quintessential experience for fostering romance and presents an opportunity for people to get to know one another in a public setting. Senior living environments are often designed with private dining rooms most often used for special celebrations and family visits. However, oftentimes these spaces feel like conference rooms, with space for up to a dozen people gathered around an imposing banquet table.
Designing smaller private dining opportunities can be achieved by carving out space for private booths with two-top or four-top tables, resulting in spaces that feel authentic and special even if they're part of a larger dining setting.
Further, when there's an opportunity to design a patio or outdoor space just off a main dining room, design elements can help enhance opportunities for privacy and intimacy. For instance, strategic vegetation or partitions, along with outdoor tables and chairs, can create screened-in destinations to enjoy a meal together in the fresh air or finish a bottle of wine during sunset.
For buildings with green space and gardens, installing a gazebo that could be reserved on a summer's night offers an enchanting private dining opportunity—presuming a wide, accessible walkway and easy access for kitchen or service staff. Design elements like this also represent a realistic, approachable cost model to creating exclusive areas in an existing space.
Lovers' gardens
For many, a walk in a park or a visit to a garden can be a simple and serene experience to share with a companion. While many architects design memorial gardens in care communities, there's an opportunity to flip the script. The same garden space could be repurposed as a "lovers' garden," with accessible pathways and intentional plantings (think red roses and daisies) designed for picking for that special someone. Water fountains, hedge mazes, and other eye-catching design features can foster experiential spaces ideal for promoting activity as well as private, meaningful time between sweethearts.
Going to the chapel
Many senior living residences are designed with chapels to provide religious services. From mass and worship services to bible study to final sacraments, a chapel space can be a fitting complement to any community but especially an elder community.
Not every project will include a dedicated wedding chapel, but integrating one may offer the opportunity for married couples to renew their vows or committed couples to take the next step. Designing a space that's intended for expressions of love and commitment can be a meaningful use of space, and it could double as a reception area or religious chapel in a pinch.
While traditional care communities haven't always made romantic relationships a priority, implementing small, affordable spaces and thoughtful design elements can be the key to creating environments that bring people together and foster loving relationships as we age.
Jami Mohlenkamp is a principal at OZ Architecture (Denver) and the leader of the firm's senior living practice area. He can be reached at jmohlenkamp@ozarch.com.